China's retail sales up 10.7% in April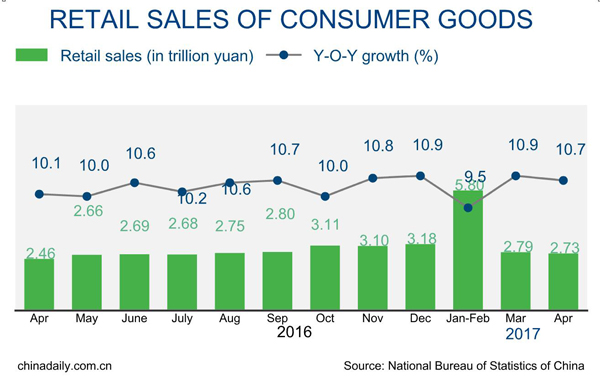 BEIJING - China's retail sales, a key indicator of consumption, grew 10.7 percent year on year in April, 0.2 percentage points slower than the March level, official data showed Monday.
Total retail sales of consumer goods hit 2.73 trillion yuan ($395.4 billion) last month, according to the National Bureau of Statistics (NBS). It increased 0.79 percent month on month.
In the first four months, total retail sales of consumer goods rose 10.2 percent year on year, 0.2 percentage points faster than the growth in the first quarter, according to Xing Zhihong, a spokesperson with the NBS.
Consumption activities were relatively stronger in rural areas, with retail sales expanding 12.6 percent in April, outpacing urban areas, where retail sales climbed 10.4 percent year on year.
Online spending was robust. From January to April, online retail sales surged 32 percent year on year to 1.92 trillion yuan.
Xing said the April figure indicates continued expansion of domestic consumer demand, which was partly driven by consumption upgrades and new business patterns such as online sales.
China is trying to shift its economy toward a growth model driven by consumer spending, innovation and services, while weaning it off reliance on exports and investment.
China's economy expanded at a 6.9-percent pace in the first quarter, accelerating from 6.8 percent in the previous quarter, and 77.2 percent of it was driven by consumption, 12.6 percentage points higher than the 2016 level, according to official data.