Evergrande makes $5.8b in unit sale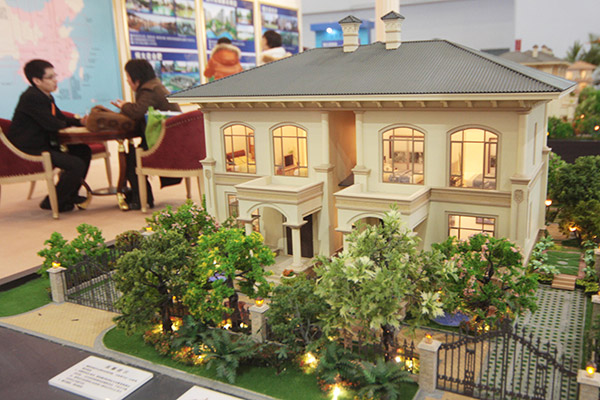 A villa project of China Evergrande Group on display at a housing fair in Beijing. [Photo/China Daily]
SHANGHAI-China Evergrande Group has raised 39.5 billion yuan ($5.8 billion) from selling a stake in a residential property company.
The decision was part of a reorganization by one of the country's biggest real estate companies ahead of a planned backdoor listing in the mainland.
Evergrande's shares jumped as much as 8.6 percent after analysts confirmed the sale price exceeded expectations.
The sale cuts the company's stake in Hengda Real Estate to 73.8 percent after banking 70 billion yuan from two sell-offs, the company told Hong Kong's stock exchange in a statement on Thursday.
The second sale came faster than expected and is at "the high end" of expectations, according to Raymond Cheng, a Hong Kong-based analyst at CIMB Securities Ltd.
Morgan Stanley echoed the "high end" view.
The developer's surging share price this year has resulted in the world's most painful short trade. It slumped on Wednesday for the first time in 12 trading days.
In October, Evergrande announced a restructuring plan to inject assets into a Shenzhen-listed firm.
Its shares have nearly tripled in the past year, squeezing short-sellers and baffling even some of the most bullish stock analysts.
Part of the sharp rally can be explained by Evergrande's plan to raise money and list in the mainland and on speculation that the developer will benefit from rising home sales in smaller Chinese cities.
Thirteen buyers took part in the share sale, including a subsidiary of the Shenzhen State-Owned Assets Supervision and Administration Commission, industrial company Shenzhen Baoxin Investment Co and Jiangxi Huada Property Group Co.
Morgan Stanley said the two rounds of fundraising were based on an initial valuation of Hengda at 198 billion yuan.
BLOOMBERG NWES