Evergrande denies desire to increase stake in Vanke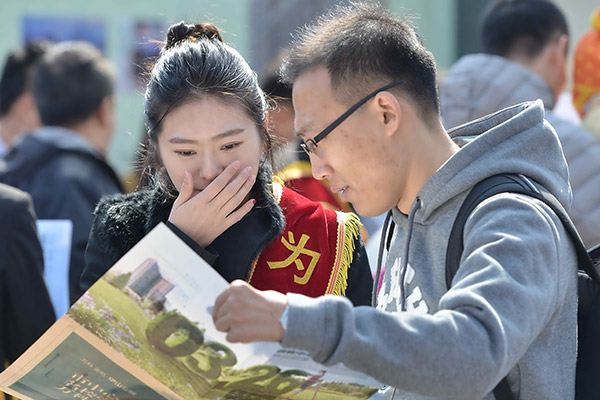 A man seeks information about China Vanke Co's property projects at a real estate fair in Shenyang, Liaoning province. [Photo provided to China Daily]
Shenzhen Metro agrees to pay $5.4 billion to become No 2 shareholder
China Evergrande Group, controlled by billionaire Hui Ka Yan, said it has "no intention" of increasing its stake in rival China Vanke Co, after Shenzhen Metro Group Co struck a deal to become the developer's second-biggest shareholder.
Shenzhen Metro agreed to buy China Resources Co's 15.3 percent stake in Vanke for 37.2 billion yuan ($5.4 billion), Vanke said in a statement to the Shenzhen Stock Exchange after the close of trading on Thursday. Evergrande, which has a 14.1 percent stake in Vanke, said in a later statement it had no intention of buying more shares.
Vanke's mainland-listed A shares jumped as much as 9.8 percent to a one-month high. The Hong Kong shares rose 5.9 percent to HK$19.70 ($2.54) at 10:05 am local time, the biggest increase since July 28.
The moves are the latest twists in a tug-of-war for control of Vanke, triggered more than a year ago when little-known Baoneng Group emerged as its largest shareholder. Vanke last month terminated a 45.6 billion yuan restructuring plan that would have introduced Shenzhen Metro as its largest shareholder, to displace Baoneng, whose advances Vanke labeled as "hostile."
The ownership tussle now has "a large probability" to be resolved, given the Shenzhen government's stronger influence on the major holders, Tu Lilei, a Shanghai-based property analyst at Haitong Securities Co, wrote in a Jan 12 note after the announcement. Baoneng and Shenzhen Metro are both based in Shenzhen.
The move is "a positive" for Vanke in reinforcing its State-owned enterprise structure, JPMorgan Chase & Co Hong Kong-based property analyst Ryan Li wrote in a Jan 12 note before the latest announcement, placing Vanke's H shares on an overweight rating with a target price of HK$27.5.
China Resources had at that time firmly opposed the deal on concerns it would have diluted its stake in the developer. The firm had been Vanke's largest holder since 2000 until it was replaced by little-known Baoneng in late 2015.
In a statement posted on its WeChat account late Thursday, China Resources said the sale of its Vanke stake was based on its strategic needs and industrial positioning, and that the deal would be beneficial to Vanke's healthy and stable growth. Separately, Vanke said Shenzhen Metro would support Vanke's management with its existing strategies and targets.
Bloomberg