Vanke ends restructuring negotiations with SZMG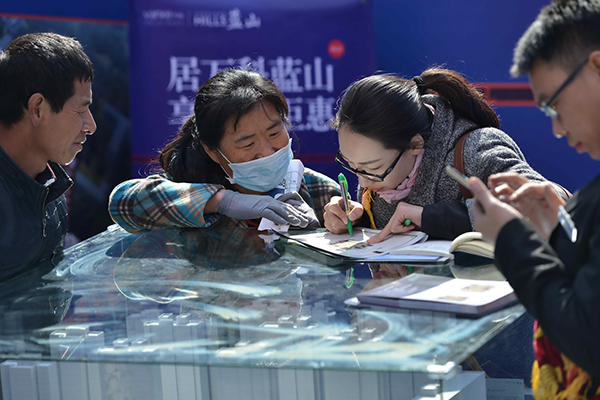 Visitors seek information at a China Vanke booth at a property fair in Shenyang, Liaoning province. [Photo/China Daily]
Move marks alleviation of tension in the long battle for control of the giant real estate firm
China Vanke Co's shares declined sharply on Monday after it announced that it will terminate an asset-restructuring plan with Shenzhen Metro Group, marking an alleviation of the tension in its year-and-a-half-long battle for control, experts said.
Vanke's A-shares on Monday dropped 6.06 percent to 21.10 yuan ($3.05), the lowest in about four months. Its H-shares also fell, by 3.21 percent.
Yan Yuejin, senior researcher with E-house China R&D Institute, said stopping the deal with SZMG will reduce the tension between Vanke and Baoneng, thus relieving the pressure brought about by the battle of control.
Chinese financial conglomerate Baoneng Group in 2015 started to buy Vanke's shares and soon became its largest shareholder.
Vanke fought back, in June 2016, with a surprise asset-restructuring plan worth 45.6 billion yuan in which SZMG would have replaced Baoneng as the largest shareholder.
Its two largest shareholders, Baoneng Group and China Resources, strongly opposed the plan to buy the entire equity interest in SZMG's subsidiary Shenzhen Metro Qianhai International Development Co Ltd-pushing the throne-fight to a climax.
After failing to reach a consensus on the acquisition for six months, Vanke called it off in an agreement with SZMG on Dec 16, but the firm noted it will still actively seize opportunities for property development above rail transit facilities. The termination was approved by all members of the board, including Vanke Chairman Wang Shi, who also said on Sunday at a forum in Beijing that the battle has not yet ended.
Hu Huaru, analyst at Sinolink Securities Co Ltd, wrote in a report that the supervision department's attitude toward Vanke's battle of control has become clear, given the ongoing intensified scrutiny of insurance capital buying in the equity market.
Foresea Life Insurance Co, the insurance unit of Baoneng Group, was banned from trading in stocks earlier this month. Hu estimated the development of Vanke's shareholder structure will become clear soon after the termination of the asset-restructuring.
Media reported on Monday afternoon that a new restructuring plan will be proposed a month later, but Vanke told China Daily that this is subject to announcement in the future. Meanwhile, Hu warned investors that the possibility of Vanke's core shareholders cutting their stock holdings increased and its valuation is still high compared to other companies in the same industry.