Made-to-measure suits Dayang fine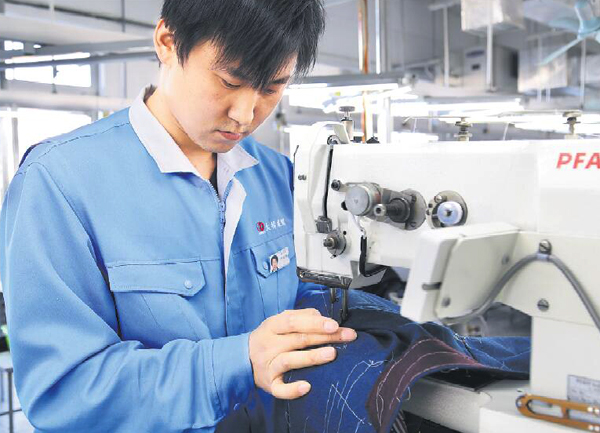 A worker operates a high-end sewing machine at an intelligent fabric-cutting workshop of Dayang Group Co Ltd in Dalian, Liaoning province. CHANG XIAOCHAO / FOR CHINA DAILY
Made-to-measure suits Dayang fine Garment maker seeks tie-ups to sell millions of suits annually
Chinese garment manufacturer Dayang Group Co Ltd is focused on building the world's biggest online platform for custom-made suits. For, in the words of Hu Dongmei, CEO of Dayang, "made-to-measure is the future of apparel".
In 2016, the company, she said, produced more than 7 million suits. Nearly 400,000 of them were custom-made ones, up 150 percent year-on-year.
The company has also upgraded 10 of its 40 production lines to facilitate the made-to-measure business."This year, Dayang alone is expected to tailor 500,000 made-to-measure suits," said Hu.
Dayang is one of the world's largest garment and ready-to-wear suit makers. It aims to build a world-class menswear brand as well.
In February 2016, it joined hands with Indochino, a Vancouver-based retailer of custom-made suits.
Since then, Dayang invested $30 million in Indochino and holds a 21 percent stake, besides being its exclusive supplier.
The plan is to help Indochino sell 1 million made-to-measure suits annually by 2020 and prepare for its listing in the North American market.
That would mark a nearly fivefold rise from more than 200,000 custom-made suits made at Dayang's factories in Jinpu New District and Pulandian District of Dalian, Northeast China's Liaoning province, and delivered last year to Indochino's customers, mainly in the United States and Canada, said Hu.
"It was 80 percent more than Indochino's annual sales the year earlier. The sales in the first two months of this year almost doubled that of last year's figure," she said.
The average price for one suit is $399-competitive even when compared to ready-to-wear suits.
It takes only two weeks for a customer to receive a specially tailored suit from the time of placing an order. One to two days go toward confirming the order, while tailoring takes seven days and international shipping three days.
If a customer knows his suit measurements, he can order directly on Indochino's website or mobile app, which is linked to Dayang's made-to-measure platform. Or, he can get his measurements taken at one of the company's showrooms in major cities such as Toronto, New York and San Francisco.
Dayang's ERP (enterprise resource planning) system runs on a database full of customer-specific details gathered from different parts of the world.
That means, it can identify subtle distinctions in measurements of customers as per their geographic location. Leveraging such data, the intelligent system can come up with the best design, cut, and fit for every customer, Hu said.
It's a convenience that many Indochino customers, especially those in the 20-30 age-group, appreciate, she said.
In an email to senior executives of Dayang, Indochino CEO Drew Green said MLB (Major League Baseball) player Coco Crisp had bought "over 60 suits that were made and produced by Dayang-all of which he loved".
According to Anita Li, director of Dayang's International Custom Department, the company has made great efforts in research and development to meet highly specific demands of customers.
"Once a customer couriered three Versace silk scarfs for the lining. Another one sent LV (Louis Vuitton) buttons," she said.
A Chinese customer, who has spent more than 1 million yuan ($144,886) so far on Dayang suits, once asked that his garments be made with fabric made of the wool of the alpaca, the same fabric used to make alpaca coats.
That suit cost more than 300,000 yuan, said Li.
Both the high-end and entry-level segments of the custom-made suit market are growing fast. Dayang is making strategic adjustments according to new market circumstances, said Hu.
Dayang's suits under the Trands brand have been well-received by some globally famous people such as Warren Buffett.
Since 2009, the company has phased out low-end orders and put more emphasis on high value-added products, to overcome the impact of the global economic crisis and competition from Southeast Asian countries with lower labor cost.
Last year, Dayang set up a 5,000-square-meter smart workshop in Dalian, Liaoning province. This year, a 10,000-square-meter workshop will come up nearby, said Hu.
Compared with the production of wholesale ready-to-wear suits, the process of making custom-made ones is more flexible but complicated, she said.
That's because the tailor has to deal with various fabrics, accessories and designs, and make changes from time to time.
At the end of the process, the tailor generates a special QR code, to enable the customer to virtually check the creation from anywhere.
For all its high-tech elements, Dayang had modest beginnings. Li Guilian, chair-woman of Dayang, started the company with 85 fellow farmers in 1979, when China started its economic reforms and liberalization.
The company now has more than 7,000 employees. Its products are sold to more than 20 countries and regions, including the United Kingdom, Germany, Italy, Japan and the United States.
Last year, sales reached 3 billion yuan that generated a net profit of 150 million yuan.
Li believes the switch from the wholesale business to the made-to-measure model can't be smooth without a change in mindset.
That is more important than changes related to commercial patterns and the switch from traditional manufacturing to smart production, she said.
"If we keep doing wholesale business, one day we'll find there are no orders anymore. Worse, we might have no idea about who the competitors are."
But, with decades of development, Dayang is well positioned to make the transition and embrace change, she said."We'll continue to innovate, provide good-quality products with our own features, and maintain a good reputation."