Malaysia's CIMB to aid Belt and Road financing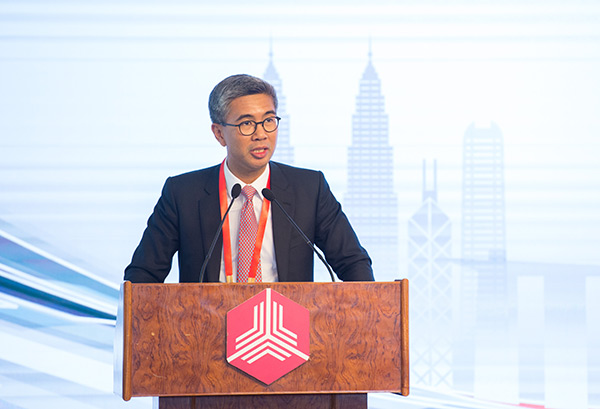 Tengku Zafrul Aziz, CEO of CIMB Group Holdings Bhd, made a speech at the opening ceremony of the Tsinghua PBCSF Belt and Road EMBA Program for Southeast Asia on May 11, 2017 in Beijing. [Photo provided to chinadaily.com.cn]
CIMB Group, a Kuala Lumpur-headquartered universal bank, is well positioned to help plug the financial gap in Southeast Asian infrastructure needs and to connect companies between China and the region, said CEO Tengku Zafrul Aziz.
He said at Tsinghua University in Beijng on Thursday that he is tremendously excited about the Belt and Road Initiative as it is an opportunity to create vital infrastructure that connects and further empowers trade. He added that Asia alone needs about $770 billion a year until 2020 in new infrastructure citing prediction of the Asian Development Bank.
In an interview with chinadaily.com.cn on Tuesday, Aziz said that China's pledged contribution of an additional 100 billion yuan ($14.49 billion) to the Silk Road Fund reflects the seriousness of President Xi Jinping to ensure the success of the Belt and Road Initiative, boosting both the magnitude as well as the sources of funding to enable more parties to participate in the project.
"Any attempt to facilitate the connectivity via both land and sea between ASEAN, the rest of Asia and even Europe could only bode well for the future of trade and diplomatic relations between these economic blocs."
He added that the challenge of execution is in ensuring that negotiations are done on a level playing field among all countries, and financing conditions are not burdensome for countries that are less developed.
Aziz said that it is always a good idea to utilize local currency borrowing to support local huge infrastructure projects, not only to mitigate foreign exchange risk, but to also create a wider, truly localized ownership of the investment process.
Zhou Xiaochuan, the People's Bank of China governor, suggested earlier this month that local currency should be used in future Belt and Road Initiative investments as using local currency more will also gradually improve market confidence in the particular currency, in addition to lowering foreign exchange risks.
CIMB Group is the largest issuer of ASEAN local currency bonds, and the top issuer for Malaysian Ringgit bonds , said Aziz.
In addition to its pan-ASEAN presence, he also viewed its deep cooperation with Chinese finance sector over the past 10 years as an advantage.
CIMB Group has invested and divested later with multiple-times returns in Yingkou Bank in Northeast China's Liaoning province and helped banks like China Development Bank to issue billions of offshore yuan-denominated bonds.
Aziz said CIMB has 400 employees in Shanghai and Hong Kong, who identify funding needs from Chinese clients and report back.
In November 2015, CIMB's investment bank arm helped China Construction Bank (Asia) to issue and list its yuan-denominated 21st Century Maritime Silk Road bonds of 1billion yuan on Bursa Malaysia Securities, the country's securities exchange. Investors included commercial banks, asset management companies and private bank clients fromMalaysia and other countries.
In March 2015, Ministry of Finance of Malaysia appointed CIMB Group to find investors for Edra Global Energy Berhad. The power company with a portfolio of 13 power and desalination plants in five countries in Southeast Asia was sold to China General Nuclear Power Corp for $2.3 billion in 2016.
In addition to these big-ticket projects, CIMB Group has also, relying on its China-related experience accumulated these years, expanded to stock-broking business and e-commerce.
The group and China Galaxy Securities are in the final stage of forming a 50-50 joint venture, said the CEO.
Alipay mobile wallet will go live by the end of this month in Malaysia, part of the bank's efforts to help build a digital free trade zone in the country, he said.
The digital free trade zone has been launched by Alibaba's chairman Jack Ma and Malaysia's Prime Minister Najib Razak in March this year and was the first of its kind worldwide.
President Xi also announced on Sunday at the Belt and Road Forum for International Cooperation that the country aims to build a digital silk road.
"We are here to help Chinese enterprises do business in Southeast Asia and to help Southeast Asian companies do business in China," said Aziz.
"We are the largest private bank in Malaysia and the largest foreign bank in Indonesia and we have a large customer base in Southeast Asia butonly two branches in China."
"Likewise China Construction Bank has only one branch in Malaysia," he said.
The CEO said the bank could share clients with its Chinese partners like China Construction Bank and China Galaxy to made good returns for both their clients.
Aziz warned that as countries along the Belt and Road, even in the Southeast region, are different and people think and do businesses in quite different ways, learning about these methods might be very important to guarantee investment safety.
"The customers are there and we know they are there but we still need to come to know them."