Local currency to play a key role
Use in future investments will ensure stability, reduce risks, PBOC chief says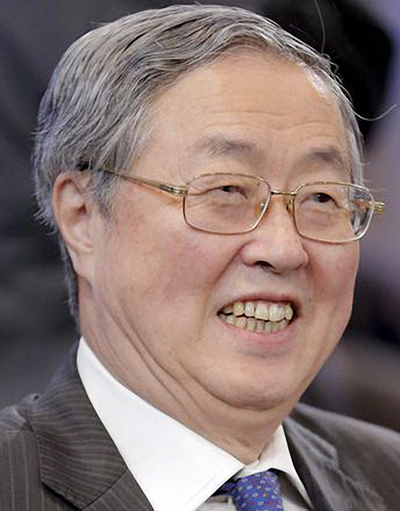 Zhou Xiaochuan, governor of People's Bank of China
Using local currency is preferred for future Belt and Road Initiative investments, because it will help ensure financial stability and reduce currency exchange risks, according to the central bank governor.
Using local currency for investment and financing projects will be helpful in mobilizing savings and global funds and reduce the risk of exchange rate fluctuations, the People's Bank of China Governor Zhou Xiaochuan said in the central bank's biweekly magazine last week.
Zhou made the comment ahead of the Belt and Road Forum held in Beijing, during which financial cooperation is among five key topics that are discussed, according to the agenda released on the official website.
Zhou said using local currency more frequently will gradually improve market confidence in the particular currency, and reduce risks of exchange rate fluctuations, with financing of projects relying less on the dollar and other major currencies.
"China has accumulated quite a lot of experience in this regard...," he said. "China is willing to share experience with other countries, as part of efforts to better meet the needs of projects and of economic development."
Since 2008, China has signed currency swap agreements with more than 30 countries and regions, among which 22 are in the Belt and Road Initiative, according to Zhou.
China has pursued direct currency transactions with 23 countries, including eight countries along the initiative's route, which have effectively reduced exchange rate fluctuation risks and helped facilitate regional trade and investment.
In the meantime, comprehensive cooperation is needed in order to provide sustainable financing for projects, most of which will be long term.
"Countries and regions need to strengthen cooperation to together plug the funding gap by leveraging additional funding from various sources, from both government-led and private sources," according to Zhou.
The huge demand for financing infrastructure projects cannot be filled by one country alone, and has to rely on market forces and support from the private sector.
Zhou quoted Premier Li Keqiang's comment as saying investment should be market-oriented and achieve win-win results.
Zhou said he expected multilateral banks to play a greater role in mobilizing funds, because they have the advantage to bridge state and market, and do not rely on government subsidies to operate.
Zhou cited the China Development Bank, a State lender, as an example in extending credit.
By the end of last year, the bank had issued loans worth $160 billion to countries along the route, according to the vice-president of the bank, Ding Xiangqun,
Ding said the bank does not pursue maximizing profits, but aims to ensure sustainable financing for projects at low cost.