Gold seen supported by uncertainty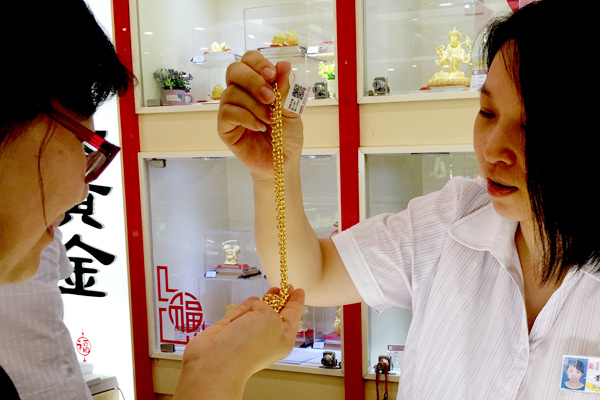 A shop assistant helps a customer to choose gold jewelry in Beijing. CAO BOYUAN / FOR CHINA DAILY
Long term, bullion's price expected to be sustained on doubt over geopolitical issues, including US rates
The price of gold price has dropped as investor sentiment for risk grows following the first round of France's presidential election and potential interest hikes in the US, but in the long run the precious metal's price is supported by lingering uncertainties about geopolitical issues, analysts said.
They said that growing investor demand for riskier assets meant the bullion price may not go up soon, but demand for risk hedging remained, so any downside would be limited.
On April 25, spot gold was down 0.2 percent to $1,272.67 per ounce and US gold futures dropped 0.3 percent to $1,274.2.
The bullion price fell to $1,265.9 last Tuesday, the lowest it's been since April 11, as the first round of France's presidential election result showed that there was less support for far-right candidate Marine Le Pen.
That reduced concerns that she would win the election and France would potentially exit the European Union.
After US President Trump unveiled tax policies last week, gold came under short term pressure on growing potential for an interest rates rise, according to a research note from Goldman Sachs.
"Potential interest hikes may put further pressure on the gold price and cause great volatility in the short term," said a research note from Bosera Fund.
"Unveiling of global economic data, particularly US GDP, is also likely to cause volatility. For investors who would like to time the market, it is time for reducing their holdings and banking gains."
Uncertainties abounded in Europe, as several countries were due to hold general elections and in the wake of the UK vote, as well as the arket response to US tax policies and healthcare reforms. These were expected to support the gold price in the next few months, said Cheng Anhua, analyst at Zhonghe Xinfu Precious Metal Investment.
"Volatility will be a key word for the gold price in the next few months, as there are so many 'boots' to drop, or not to drop," Cheng said.
"But even if gold price continues to retreat, the loss will not last long or be significant because the market is too eventful for continuous losses for the safe-haven asset."
In the longer term, analysts said gold still deserved a position in investment portfolios as demand for risk hedging was expected to increase if geopolitical concerns grew.
For investors in China, analysts said the currency exchange rate between Chinese yuan and US dollar needed to be taken into consideration.
If an investment is dollar-denominated, a comparison of dollar-gold trend and yuan-dollar trend is needed to decide wether the gold is getting more expensive or not, said Yang Fei, analyst with Shanghai-based Seawonder Precious Metal Investment.
Li Xunlei, chief economist with Zhongtai Securities, said in a forum in Shanghai last week that gold gained more than US real estate did in the past 16 years, showing that the safe haven asset was a good for long-term investment.
The gold price rose from $300 per ounce in 2000 to $1,200 per ounce by the end of 2016, enjoying about 300 percent growth, while US properties gained 75 percent, Li added.