CC Land buys City of London's tallest skyscraper for $1.46b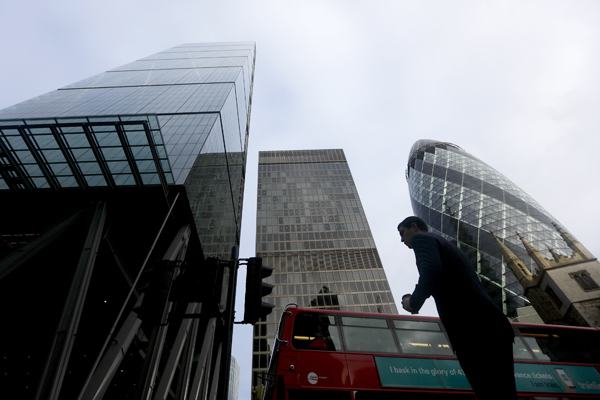 A pedestrian walks past the Leadenhall Building in the City of London financial district, the United Kingdom. BLOOMBERG VIA GETTY IMAGES
A Chinese realty firm said it has paid 1.135 billion pounds ($1.462 billion) to buy the tallest skyscraper in City of London-the biggest Chinese investment in the United Kingdom's real estate market.
Analysts said that the move showed developers were diversifying their investments by location and business models, with more stepping out of the domestic market and getting yields from rental income instead of sales revenue.
Hong Kong-listed CC Land Holdings Ltd, controlled by property magnate Cheung Chung-kiu, one of the biggest real estate players in Chongqing, said in an announcement on Monday that one of its subsidiaries bought 122 Leadenhall Street, known widely as the Cheesegrater for its distinctive wedge shape.
The deal includes debt of some 12.7 million pounds and on March 31, the building was valued at about 1.15 billion pounds, the announcement said.
The 225-meter-high building was owned jointly by British Land and Canada's Oxford Properties.
The combined space of the 46-floor Cheesegrater is about 56,600 square meters. The skyscraper's projected annual rental income, fully let, will be about 40.2 million pounds.
This is not the only CC Land acquisition in overseas markets in recent years. In 2016 the group acquired One Kingdom Street, a 12-floor, 50-meter-high building in London for 290 million pounds. It also bought a 34.55 percent share of an office building in Australia for HK$122 million ($15.68 million).
CC Land said in its annual 2016 results the company has been adjusting its business strategies to expand globally by investing in key cities around the world.
Analysts said Chinese mainland enterprises are increasingly diversifying their investments globally with a particular appetite for trophy properties in prime markets, eyeing stable and steady, long-term yields from rental income.
According to research by property services provider JLL, in the past three years investments in land, office buildings and hotels accounted for 90 percent of the Chinese mainland's total outbound realty investment.
JLL said London was one of the top investment targets in the period, attracting about 16 percent of overall Chinese mainland outbound property investment, running second only to New York, which took 18 percent of the total spend.
"Acquiring quality property in a bid to generate a long-term income stream has become a mainstream model for Chinese outbound property investment," a CITIC Securities Co research note said.