Belle mulls proposal to privatize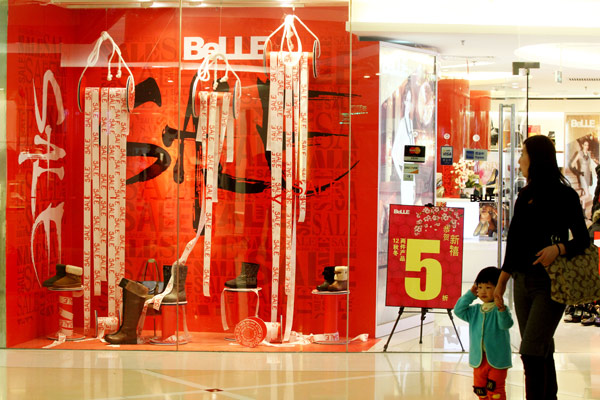 A woman looks at the display window of Belle at a department store in Beijing. A QING / FOR CHINA DAILY
Once leading women's shoe maker facing sluggish business
Belle International Holdings Ltd-the former No 1 women's shoemaker in the Chinese mainland-is looking at going private, a decade after its debut on the Hong Kong Stock Exchange, due to the sluggish footwear business.
A consortium made up of Hillhouse Capital, CDH Investments, and Belle directors Yu Wu and Sheng Fang, announced last week that the shoemaker's board put forward a proposal which, if approved and implemented, will result in Belle's privatization.
Under the proposal, the joint offerers will pay Belle shareholders a cancellation consideration of HK$6.3 ($0.8) a share in cash. This represents a premium of 19.54 percent over the last trading day and 12.5 percent over the 52-week closing high.
Belle's price surged 15.18 percent to close at HK$6.07 per share on Tuesday, taking its market capitalization to HK$53.1 billion, a record high on the Hong Kong Stock Exchange for a privatization valuation. Prior to this, Dalian Wanda Commercial Properties' privatization deal reached HK$34.5 billion in August last year.
On completion of the proposal, Hillhouse will hold 56.81 percent of Belle, CDH will hold 12.06 percent and other participating management, including Yu and Sheng, will hold 31.13 percent.
Belle's management team has explained in the public announcement that the company has experienced "unprecedented challenges in its footwear segment" in recent years, which had led to the privatization move.
Department stores, which are Belle's primary sales channel, have suffered a significant reduction in customer traffic as a result of competition from both e-commerce and other retail channels such as shopping malls.
Belle CEO Sheng Baijiao said the company had reached a tipping point.
"Only with the combination of Belle's traditional sales model and the digital economy can the company seek sustained growth," Sheng said.
"The joint offerers have the digital expertise which we need right now," he said.
Zhang Lei, founder of Hillhouse Capital, said the consortium could help Belle realize a transformation with their knowledge of the digital economy and experience in the company's operations, seeking new opportunities in the internet age.
Founded in 1978, Belle has a range of female shoe brands including Belle, Staccato and Tata. It also runs a sportswear and apparel business, with retail distribution of brands including Nike, adidas and Moussy.
Belle hit its peak with a market cap worth HK$150 billion in 2013. Between 2005 and 2007, Belle rapidly expanded its distribution channel, opening up 1,419 new stores within 15 months from 2005.
Growth continued in ensuing years but the company started to downsize its physical network in the second fiscal quarter of 2014, closing 56 stores in three months.
Belle's aggressive expansion of its physical stores, however, can not offset disappointing sales. According to public information, the company registered 13 consecutive quarters of negative same store sales growth since the fourth quarter of the financial year ended 28 February 2014.
Net profit for fiscal year 2017 is expected to decrease by up to 25 percent.