CGN says confident UK will OK plan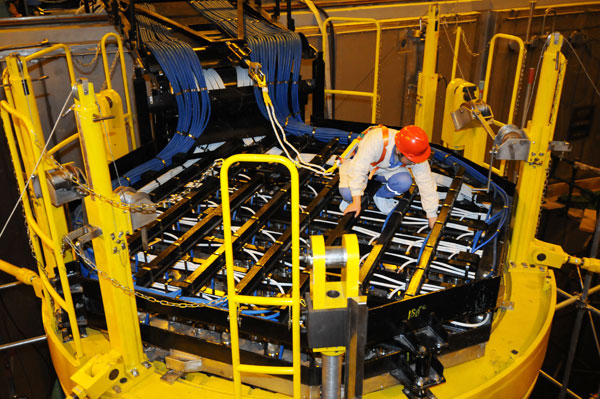 A technician works on the Hualong One reactor at the Fangchenggang nuclear power plant in the Guangxi Zhuang autonomous region. [Photo by Liang Fuying/For China Daily]
China General Nuclear Power Corp said it is confident the first phase of the UK government's assessment of the company's plan to build a nuclear power plant in southeastern England will be completed by mid-November.
"We plan to submit the preliminary security report to the British government by mid-November and wrap up all the first phase examination work by then," said Mao Qing, the project manager at CGN responsible for Hualong One's assessment, at the 12th China International Exhibition on Nuclear Power Industry 2017 in Beijing on Thursday.
"We are confident that Hualong One is not only safe and technically mature, but also economically competitive, and will pass the UK's strict approval process."
The UK government asked nuclear regulators to begin the Generic Design Assessment of CGN's Hualong One reactor design, China's domestically developed third-generation reactor, in January, a process that industry experts expect to take about 60 months in four phases.
An expert said he believes there are high chances Hualong One meets the British government's stringent safety, security and design requirements and receiving approval from UK will also make it easier to export Hualong One to other developed nations.
Considering CGN's vast experience in building nuclear facilities at home and the significance of the nuclear power plant at Bradwell in southeastern England, chances are high that the parameters are met, said Joseph Jacobelli, a senior analyst with Asia utilities and infrastructure research at Bloomberg Intelligence.
Representatives from the UK's Office for Nuclear Regulation and Environment Agency spoke highly of CGN's design research and operation capacity after a visit to the company's Daya Bay Nuclear Power Plant in March, according to Mao.
UK Energy Minister Jesse Norman also said earlier the stringent regulatory regime in the UK's nuclear industry is to ensure security and the mitigation of any potential environmental accidents.
According to Mao, after the first phase of preparation which is expected to take 10 months, the company will spend another 12 months on the evaluation of a preliminary safety report, followed by a 13-month security and environmental impact assessment evaluation before construction and a 25-month discussion with British nuclear safety regulators for further technological improvements.
CGN has well prepared itself for all kinds of potential risks and response strategies in accordance with the British government's assessment requirements, said Mao.
CGN and French utility Electricite de France SA has set up an industrial partnership, General Nuclear Services, to promote the assessment.
CGN Chairman He Yu said earlier that investing in Bradwell will push forward Chinese reactors' global market development.