Minister dismisses conjecture on FDI fall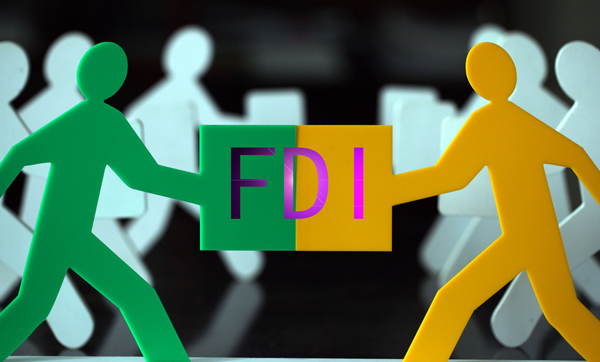 Foreign direct investment to China dropped by 9.2 percent year-on-year to $12 billion in January, 2017. [Photo/VCG]
Foreign direct investment to China will be further optimized and diversified in the long run as the country's economy is transformed and upgraded, the top commerce official said on Tuesday.
Commerce Minister Gao Hucheng said opinions on withdrawal of foreign direct investment in China are biased, since the market plays a key role in allocating global capital resources.
His comments came after foreign media reported that foreign direct investment into the Chinese mainland dropped by 9.2 percent year-on-year to $12 billion in January, prompting speculation that the country's ability to attract FDI is declining.
"We never use one month's figure to summarize a long-term trend, and an early Spring Festival last month was another factor to affect the country's monthly FDI volume," Gao said at a news conference in Beijing.
Even though global FDI dropped by 13 percent year-on-year in 2016, the amount of utilized FDI in China grew by 4.1 percent to 813.2 billion yuan ($118.1 billion), indicating the confidence of global capital in the country's economy, data from the ministry show.
"The FDI in any country will come and go with the development of the economy and changing industrial structure," Gao said.
The minister said the Chinese government has noticed that some low-end companies left the country while high-end industries started to invest more in China, because the country is undergoing a boom of industrial and consumption upgrading.
As foreign investment actively participated in China's economic transformation and upgrading, the utilized foreign investment in the service sector grew in 2016 by 8.3 percent year-on-year to 571.6 billion yuan, while FDI to the high-tech service sector jumped by 86.1 percent to 95.6 billion yuan.
Absorbed foreign investment to the medical equipment industry surged by 95 percent, to high-tech services by 86.1 percent and to pharmaceutical manufacturing businesses by 55.8 percent year-on-year.
Sun Jiwen, the ministry's spokesman, said the plan to add six provinces and one municipality to China's third group of free trade zones awaits the central government's approval, and foreign companies can ship products manufactured from their factories in China to countries and regions along the Belt and Road Initiative this year.
Alexandra Voss, executive director of the German Chamber of Commerce-North China, said, "The Yangtze River Delta region, Shanghai, Chongqing and Chengdu, with strong consumption power, demand for industrial upgrading and infrastructure, will continue to remain attractive to German companies from the long-term perspective."
Cheng Yu contributed to this story.