New trends of China's overseas travel in Spring Festival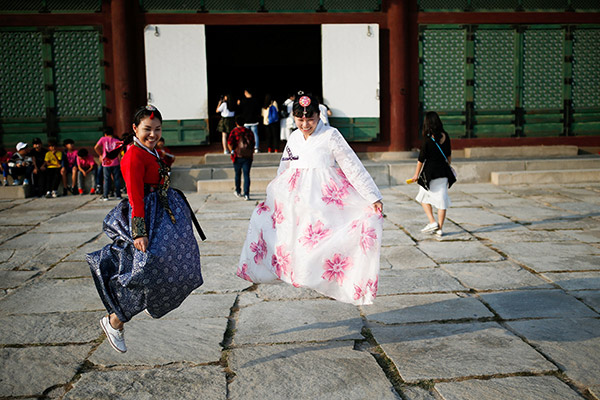 Chinese tourists wearing Korean traditional costumes Hanbok jump as they pose for photographs at the Gyeongbok Palace in central Seoul, South Korea, October 5, 2016. [Photo/Agencies]
BEIJING - The Spring Festival holiday is a peak period for Chinese to travel overseas, with 6.15 million overseas trips made this year, up 7 percent from last year.
Travel website Ctrip said that Chinese tourists are estimated to have spent 100 billion yuan ($14.5 billion) over the seven-day holiday.
Southeast Asia is hottest destination
"It's a totally different way to celebrate Spring Festival in a foreign country," said Li Chunhong,from the southern city of Nanning. Her family just returned from five-day trip to Thailand, among a growing number of Chinese who visit Southeast Asia to celebrate Spring Festival.
According to online travel agency Tuniu.com, outbound tourists accounted for 48 percent of its Spring Festival business. Southeast Asian countries are the most popular destinations, with Thailand top of the list.
Travel fever spreads to smaller cities
People from smaller cities are now more keen to venture abroad.
China National Tourism Administration reported that inland cities have become important sources of outbound tourism.
Li Jianlin, general manager of Guangxi overseas travel agency's Nanning branch, said that tickets on chartered flights from Nanning to Phuket and Bangkok were sold out Jan 26, the eve of Spring Festival, and Feb 5.
Tuniu.com said that second-tier and third-tier cities, such as Nanjing and Wuhan have generated the fastest growth in outbound tourists this holiday.
The number of UnionPay overseas transactions rose nearly 40 percent this holiday to 462 billion yuan. As Chinese tourist numbers grow, more hotels, restaurants and stores overseas have started to take UnionPay cards.
Diverse travel experiences are needed
In addition to shopping and sightseeing, Chinese tourists have shown interest in a wide variety of travel experiences.
Fu Hua, president of Beijing Damei International Travel Agency, said tours to the United States have gained popularity as tourists can see the northern lights in Alaska or travel to the United States by cruise ship.
Celebrating Spring Festival at the bottom of the earth is not a dream. According to Tuniu.com, ten tourists, most from Shanghai, went to the South Pole.
"The growth in overseas tourism can be attributed to higher incomes," said Fu. Other factors, such as simpler visa procedures and more flights also contribute to the boom.