Fuxin sees big potential from industrial tourism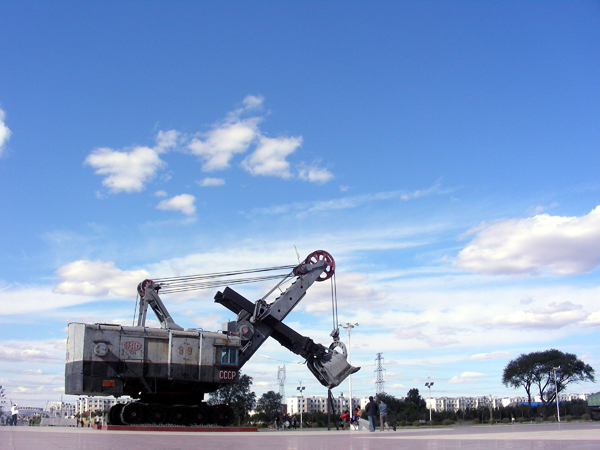 An excavator on display at the Haizhou Coal Mine in Fuxin, Liaoning province. YI RUNQIAN / FOR CHINA DAILY
With many cities in northeastern China-once the heart of the nation's heavy industries-vying to upgrade their key sectors to keep pace with the ongoing structural reforms, Fuxin in Liaoning province is being remoulded as a mining-themed tourist spot.
Haizhou Coal Mine, nearby the city, which opened in the 1940s, was one of Asia's biggest open-cast mines by output. The mine closed in 2005 after running out of reserves, and has since been named as one of the 28 national mining parks by the central government.
It now features a viewing platform for visitors, overlooking a crater that is 2.1 kilometers long, 4.3 km wide and 350 meters deep. In addition, the local government has built a park with a railway museum, construction machinery exhibitions, hotels and restaurants.
Giant excavators with eye-catching "CCCP" marks imported from the Soviet Union in the 1950s and electric locomotives manufactured in the German Democratic Republic in the 1960s can be seen at the complex.
Attracted by its historical background and terrain, martial arts star Jackie Chan and actress Li Bingbing visited Haizhou Coal Mine to shoot a number of war scenes for the movie The 1911 Revolution in 2010.
Wang Zonglin, head of the city's land and resources bureau, said Fuxin will invest $54 million in tourist areas over the next five years to tackle potential geological hazards such as the spontaneous combustion of residual coal and landslides, and tackle pollution and safeguard the area's industrial heritage.
Provided by the German government in 2015, the money came from a low-interest loan managed by the country's KFW bank. It provides soft loans to preferential environmental, healthcare and educational projects in developing countries.
"The loans will help the complex reach all the standards required of a national mine park," said Wang. The city has so far invested 226 million yuan ($32.95 million) in the complex.
Fuxin's main industries are agriculture, tourism and hydraulic part manufacturing, but it is still struggling to create enough jobs and boost local GDP.
"The northeastern region face more difficulties than the rest of country amid the economic slowdown," said Lu Shichang, a professor at the city's Liaoning Technical University. He said the region should accelerate the reform of traditional industries and the development of emerging industries and the service sector.