Home / Business / Industries
No bill's big for thrills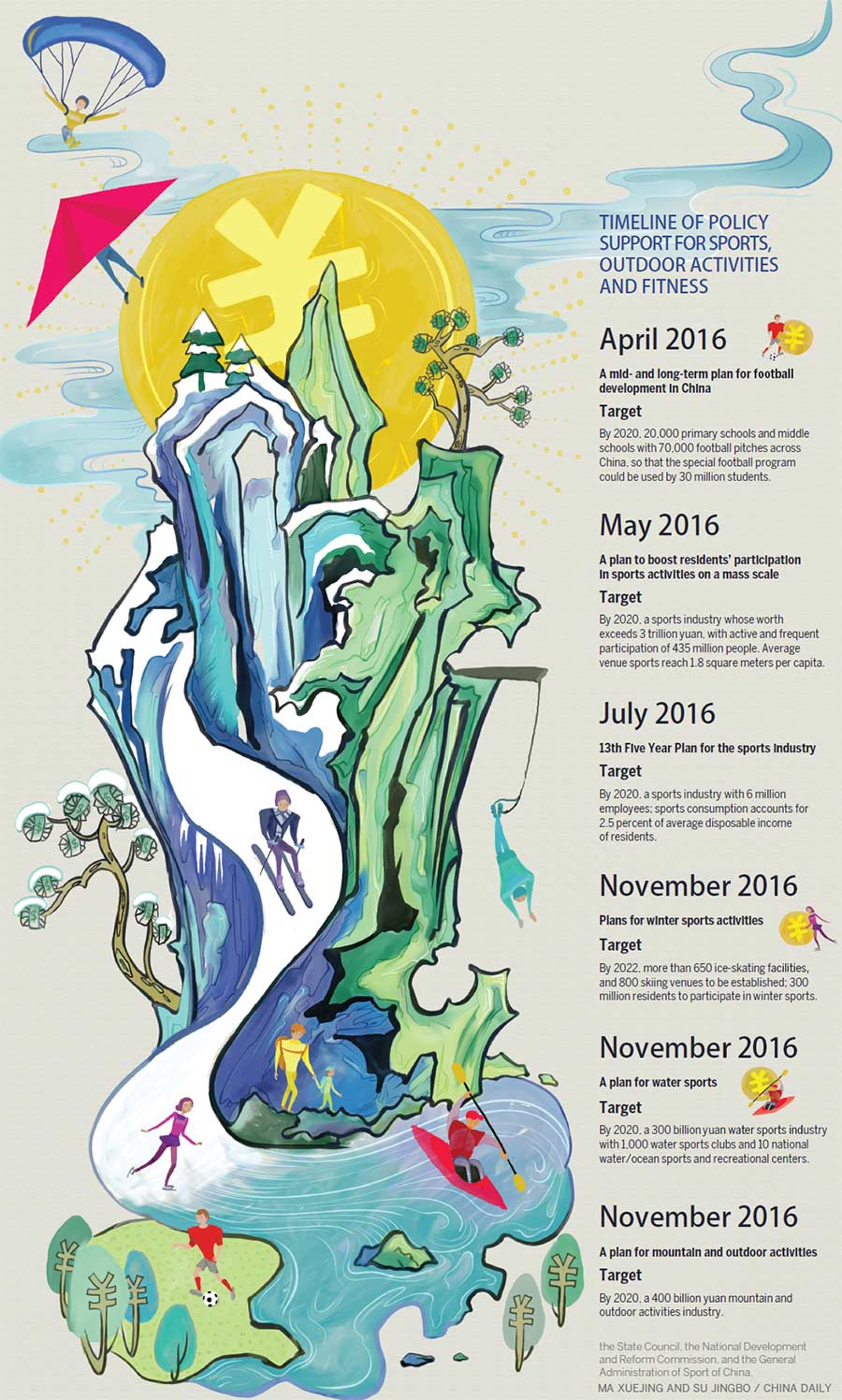 Skydiving, hiking, kayaking ... sports tourism takes off in China as disposable incomes rise
Zhao Manli, 29, a project manager at a language traning center in Shanghai, recently blew up $400, equivalent to her salary for a week, on a two-hour helicopter tour of Cairns in northern Queensland, a province in Australia.
For Zhao, the thrill and the sense of adventure and achievement she experienced during those two hours were worth much more than $400. "I've never thought I'd dare fly in a helicopter, but I'm so glad I did. It's so exciting. I wish I can do more of such activities in China too."
Her wish, which is probably shared by millions of other Chinese, will likely be fulfilled sooner than later as sports tourism, with accent on thrills, adventure, outdoor activity and physical fitness, is set to take off in China.
The emerging segment of tourism is expected to generate billions of dollars in sales revenue in the years to come. Development of sports tourism is part of the goals set by China's top policymakers in December for economic rejuvenation.
In China these days, investments, exports and resource exploitation sit side by side with domestic consumption and "consumption upgradation" in the list of national priorities.
So, from aviation clubs to hiking trails, specific projects are marking the efforts for the development of sports tourism in China.
By 2020, the country would like to generate 1 billion sports tourism trips annually from Chinese as well as foreign tourists. As many as 100 companies are being sought to be formed with a focus on sports tourism. At least 100 new sports tourism activities are planned.
Another 100 projects to promote health through such activities as hiking, jogging and biking trials will be launched.
That's not all-100 purpose-built "demonstration tourist bases" will be built. In addition, here's what's in the pipeline: 2,000 camps for aviation sports activities like skydiving, ballooning and helicopter tours; 1,000 clubs to popularize water sports such as kayaking; 500-km hiking trails along the Taihang Mountains that range across Beijing, Hebei, Shanxi and Henan.
Revenue targets are as ambitious: 200 billion yuan from aviation sports, 300 billion yuan from water sports, and 400 billion yuan for mountain-outdoor sports.
To realize the targets, growth of the nascent sport tourism market needs to be turbocharged. The segment contributed 207 billion yuan in 2015 to the overall 4.13 trillion yuan tourism revenue, according to data of China Tourism authorities.
A research note from Ping An Securities said that sports tourism has been one of the fastest growing segments in China's consumption-driven economy, thanks to growing wealth, increasing disposable incomes, and rising awareness of the interconnected physical and mental health.
According to a State Council circular, sports industry's contribution to GDP is sought to be raised from 0.5 percent in 2015 to 5 percent in 2025, making it a 5 trillion yuan market.
Market analysts said policy support, while certainly helping develop the sector, alone won't be enough.
Financial resources need to be raised from capital markets. Investments need to be made on brand building and development of intellectual properties for sport activities, events and facilities, they said.
"I think policymakers are supporting the development of the sports sector and sports tourism in the same manner as they had supported information technology three decades ago. In 1986, IT accounted for 0.75 percent of China's GDP, while in 2006 it reached 5.25 percent," said Wei Jinglei, general manager of Sina Sports, a division of one of China's largest web portals, Sina.
The changing scene would spawn more opportunities for activities, events and games in the China market to become world-class so as to be introduced in international markets, said Wei.
In 2016, the sports industry contributed some 0.6 percent to China's economic growth, compared to 2 percent in developed countries, demonstrating that there is still much room for the industry to grow, according to a report by People's Daily.
Officials at enterprises that have invested heavily in outdoor activities and sports events said they see sports and sports tourism not as niches catering to a small group of people but as mass-market products.
In 2016, Discovery Adventures Park in Moganshan opened to families that wish to experience an array of multiple-level outdoor survival skills and training programs, including China's biggest rock climbing wall, zip-lines, ATV tours, mountain bike courses, hiking routes, obstacle challenges and more.
APAX Group, developer of the 400 million yuan project, plans to open another 80 similar parks in the next 10 years in China and other locations in Asia, according to Terence Chu, its managing director.
Sun Haibing, owner of Kayak Bike Run, an outdoor activities club in suburban Beijing, said that consumers' mindset about outdoor activities and sports tourism has changed significantly, which will likely lead to rapid development of the sector.
"In the past, people used to believe kayaking on a river, or biking on a mountainous road, must be quite 'dangerous' and requires professional skills through long-time training, suitable only for professional athletes. But now, even primary school children are coming to the park to pick up these skills. As long as safety is ensured by professional coaches and creation of an ecosystem of sports tourism complete in all respects, people would like to try their best and push self-imposed boundaries for themselves. The market is booming," said Sun.
Sports tourism, eco-tourism and outdoor activities help a region to optimize its resources and drive economic growth, industry observers said.