Soccer-rights firm draws interest from Yunfeng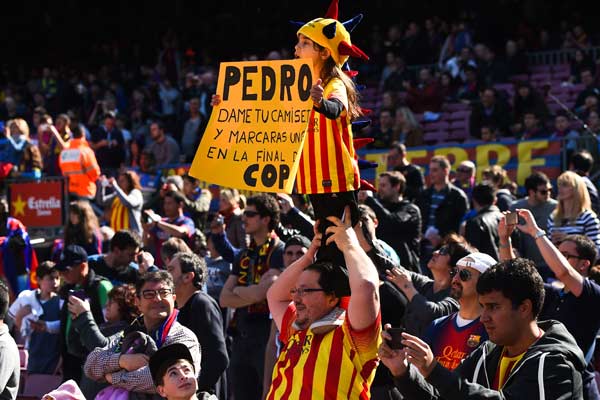 FC Barcelona supporters cheer their team prior to the La Liga match between FC Barcelona and Rayo Vallecano de Madrid at Camp Nou in Barcelona, Spain. [Photo/Getty Images]
Yunfeng Capital-the fund backed by Chinese e-commerce billionaire Jack Ma, and HNA Group Co-is among participants preparing second-round bids for stakes in Spanish audiovisual company Imagina Media Audiovisual SL, according to sources with knowledge of the process.
Yunfeng is partnering with buyout firm Centerbridge Partners, the sources said.
Advent International Corp and Pamplona Capital Management LLP are also among bidders, they added. Second-round bids are due in the next few weeks and a buyer may emerge in the first quarter, one source said.
Negotiations are reportedly being driven by Spanish billionaire Juan Abello's Torreal SA, which owns a 23 percent stake. Torreal is working with Citigroup Inc and Lazard Ltd to find buyers for its stake in the company, which could be valued as much as 2 billion euros ($2.1 billion), the sources said.
Imagina sells the international rights to Spain's La Liga and also provides production, post-production and audiovisual services, according to its website. Any transaction would add to the $210.5 billion of media deals announced in the past 12 months, according to data.
The company's owners also include management, advertising giant WPP Plc and Mexican media company Grupo Televisa SAB. Representatives for Advent, HNA, Imagina, Pamplona, Torreal and Yunfeng declined to comment. A representative for Centerbridge didn't immediately respond to an email seeking comment.
Chinese companies have recently been targeting sports media rights in addition to making a string of acquisitions of European soccer teams.
Last year, a group led by Baofeng Group Co bought a majority stake in MP & Silva Holding SA, which negotiates broadcast rights for leagues around the world.
In Italy, the top two Milan soccer teams have been pursued by Chinese groups, while investors from China have also bought into English clubs including Manchester City.
HNA, the acquisitive Chinese conglomerate that grew out of a local airline on the tropical Chinese island of Hainan, has recently expanded into sports and content distribution.
It invested in LeEco's sports streaming business in China last year and bought a stake in Global Eagle Entertainment Inc, a US provider of in-flight entertainment and internet services.
Bloomberg