New Guangdong governor sets GDP goal of 7%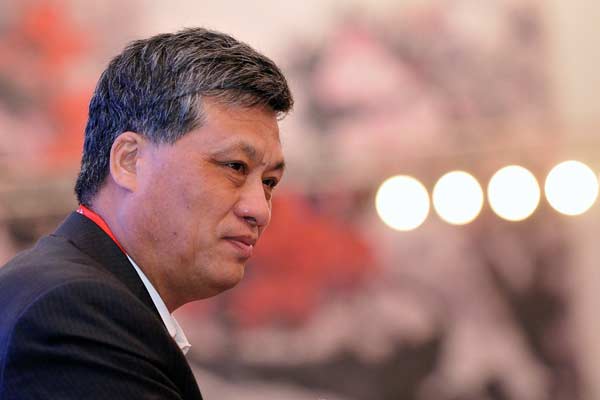 Ma Xingrui, governor of Guangdong. [Photo/VCG]
Ma Xingrui was elected as the governor of Guangdong province on Monday.
The fifth session of the 12th Guangdong Provincial People's Congress, which ended in Guangzhou on Monday, also elected Li Yumei as chairwoman of the standing committee of the local legislative body.
Ma highlighted developing an innovation-driven economy and the revitalization of eastern, western and northern Guangdong as important tasks this year when he delivered a Government Work Report to the session as acting governor on Thursday last week.
Guangdong has had the highest gross domestic product among all provincial-level regions in China in the past 28 years. Its GDP in 2016 surpassed 7.9 trillion yuan ($1.15 trillion), up 7.5 percent year-on-year, according to the Guangdong Bureau of Statistics.
Ma laid out a goal of achieving GDP growth of at least 7 percent this year, specifying that research and development expenses should make up 2.65 percent of its GDP.
This is the first time for the provincial Government Work Report to state the share of R&D expenses of its GDP target," said Xin Pu, a member of the financial and economic affairs committee of Guangdong People's Congress.
"It shows that Guangdong attaches great importance to R&D, hoping to boost science and technology development, and promote innovation."
Ma, born in 1959, was the head of China Aerospace Science and Technology Corp from 2007 to 2013 and then served as the vice-minister of industry and information technology before moving south to Guangdong in 2013.
He was appointed as Party chief of Shenzhen in 2015 and held the position until December last year.
Ma has high expectations for leading Guangdong, China's manufacturing powerhouse, to accomplish industrial transformation and upgrade with information technology.
Another notable number mentioned in the provincial Government Work Report is the 540 billion yuan investment in key projects this year, especially those focusing on infrastructure construction including rapid transit networks.
"Improving the rail transit systems, especially in less-developed eastern, western and northern Guangdong, can help to link these areas with the Pearl River Delta and thus increase the efficiency of the whole province's economic growth," said Lin Jiang, head of the public finance and taxation department at Sun Yat-sen University in Guangzhou.