Guangdong officials stress education and finance in Zhanjiang
Education and finance are placed firmly on the agenda during a visit to Zhanjiang on Dec 15, by Guangdong Vice Governor Lan Fo'an.
"Zhanjiang should advance its education towards the goal of becoming a center for technology and education in western Guangdong," said Lan, who encouraged Zhanjiang's higher learning institutions such as Lingnan Normal University and the Guangdong Ocean University to nurture more talents under the city's long-term development strategy.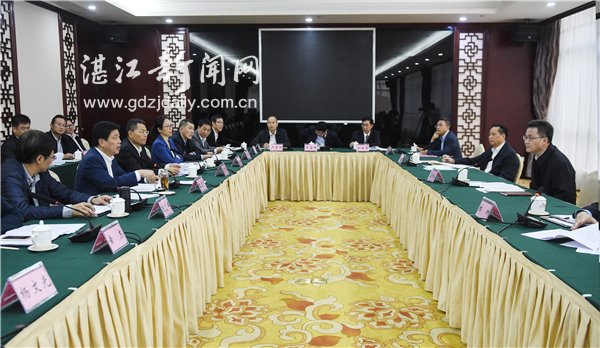 Guangdong government officials discuss the development of Zhanjiang's education and finance sectors. [Photo by Lang Shuchen/gdzjdaily.com.cn]
Wei Honguang, secretary of the Zhanjiang Municipal Party Committee said Zhanjiang will spare no efforts in pushing education development by integrating and sharing resources and he expected strong backing from the provincial government.
Lan said he was impressed by the current economic and social development in Zhanjiang, and encouraged the city to strive to make more achievements in financial innovation.
"Financial services should serve the real economy, benefiting more people especially those in rural areas," Lan said. He also suggested that the Zhanjiang government develop a complete financing guarantee system for small and medium-sized enterprises by building re-guarantee institutions.