Bubbling with zeal to satisfy new tastes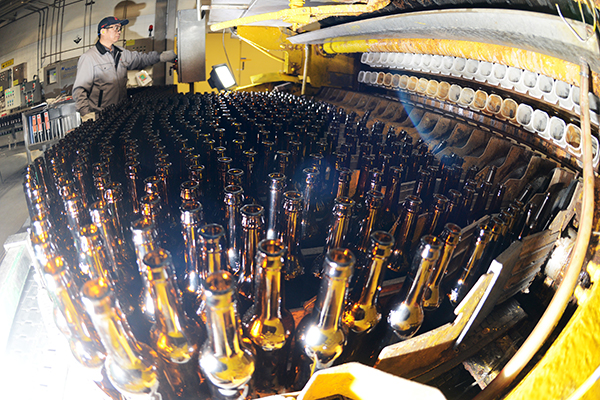 A production line of Anheuser-Busch InBev in Wuhan, capital of Hubei province. [Photo/China Daily]
China, already a humongous market for white spirit and millet wine, is developing a new taste for flavored beers. And the world's beer market leader, the Leuven, Belgium-based Anheuser-Busch InBev, can't wait to quench Chinese tipplers' thirst.
Leading AB InBev's effort toward that goal is Jean Jereissati, president for the company's North Asia-Pacific region.
When he joined the beer behemoth in 1998, integration of its many leading brands-Budweiser, Corona and Stella Artois-into a coherent marketing strategy was his main challenge.
Now, of course, Jereissati, a Brazilian, can't stop thinking about what is likely to be the biggest challenge of his career yet-the China market, its millions of beer consumers, their willingness to try out new flavors and the huge opportunities therein.
"Huge" because China is already the world's largest beer market, accounting for an estimated 190 billion yuan ($27.4 billion) in sales in 2016, or about 24 percent of the global total.
Actual 2016-end figures are yet to emerge, but there is a broad agreement among industry insiders that China is now the largest beer market not only by volume but by sales value.
In 2015, China consumed 18 billion liters of beer, double the amount than Americans. Demand continues to grow, engendering long-term growth prospects.
This is particularly true for the country's western and northeastern regions where economic development has spawned higher incomes, better quality of life, lifestyle aspirations, all of which are resulting in, or are likely to lead to, rising consumption of quality beer.
AB InBev-it commanded nearly 19 percent of the China beer market in 2015-will slug it out with Carlsberg China, China Resources Snow Breweries, Tsingtao Brewery and Beijing Yanjin Beer for supremacy in the market.
"We found 'the beer culture' forms gradually in (parts of) China. Chinese consumers (in some regions) will start pursuing more diversified drinking experience. Their lifestyle is constantly changing. Beer-drinking occasions are increasing, driving demand," he said.
In one of his previous stints as president for the company's Hispanic/Latin American unit, Jereissati led the integration of Cerveceria Nacional Dominicana, a beer producer in the Dominican Republic, with AB InBev. He also integrated Corona and Modelo Especial brands into the company's portfolio in Guatemala.
Such experiences gave him insights into how young consumers represent growth potential in changing markets. Since the China beer market, too, is changing, Jereissati is confident he is the right man at the right place at the right time to make things happen for AB InBev.
"We believe the legal drinking age people have the potential to be the main drivers of beer consumption," he said.
With the extended summer of 2016-the April-October period-proving long and hot in China, various brands produced 29.95 billion liters of beer in China, according to industry figures.
In China, AB InBev sold almost 2.4 billion liters in the third quarter (July-September) of 2016, up 1.6 percent year-on-year, earning $1.23 billion in revenue, up 6.3 percent year-on-year. Operating profit for the first three quarters (January-September) of 2016 grew 19 percent year-on-year to $973 million.
That was possible because over the last 17 years, AB InBev has built more than 40 breweries in China. The company plans to continue to invest in new breweries and improve and expand its existing breweries.
It has invested in making alcohol-free and low-alcohol beer. It wants to broaden its portfolio further.
AB InBev has lined up a variety of beer brands across as many as five segments (value, core, core plus, premium and super premium). "We've to satisfy different consumer tastes-they can't be neglected. We've to keep offering something new," Jereissati said.
The company uncorked New Year celebrations at an event on Jan 5 at the Times Square in New York to mingle with its patrons, have fun and say thanks. Chinese volleyball coach Lang Ping and volleyball player Wei Qiuyue attended the event and shared fascinating behind-the-scenes stories of their successful careers.
AB InBev, which employs over 26,000 in China, has invested more than $3 billion in China since 1995. It will invest at least $1 billion across its markets in dedicated social marketing campaigns and related programs globally by the end of 2025.
They will include a project involving six cities across the globe, including Jiangshan in Zhejiang province, East China, to reduce harmful alcohol consumption by 10 percent by 2020.
Frank Wang, vice-president of legal and corporate affairs, north Asia-Pacific region, AB InBev, said: "We are further committing to help influence social norms to reduce harmful alcohol use by launching multi-year pilot projects, which will explore collaborative, innovative and effective approaches and identify best practices to implement across all of our markets."