Top 10 Chinese global brand builders
An industry report that highlighted 30 leading Chinese companies who have most successfully established a presence in overseas markets was recently unveiled in Beijing.
BrandZ Top 30 Chinese Global Brand Builders was published by WPP and Kantar Millward Brown in collaboration with Google.
Brands across nine product categories are ranked based on their Brand Power Scores in seven developed markets, including France, Germany, Spain, the UK, the US, Australia and Japan.
Lenovo Group Co Ltd ranks first among the companies as the most powerful Chinese export brand with a Brand Power score of 1,682.
According to the creators of the report, three ingredients comprise Brand Power: Meaningful (meeting functional and emotional needs in relevant ways), Different (being distinctive or trend setting), and Salient (coming easily to mind in a buying situation).
Each brand's Meaningful and Different scores were computed based on Google Survey answers. Salience was computed based on both the survey answers and the brand's indexed search volume.
"China used to have the reputation for being a country for producing mass manufacturing budget products, achieving a huge success in penetrating across the world," said Scott Beaumont, president of Google Greater China. "But it is changing increasingly quickly. These brands are pioneers in breaking through the ceiling and redefining the ways that people think about China and the ways that people think about Chinese brands."
"The brands on the list stand for qualities, innovation and customer service, in a way that would become comprehensible even five or 10 years ago," he said.
"The study shows that the movement of ideas and product leadership has expanded globally, with consumers increasingly looking to China as a potential source for the newest and most innovative products and brands," David Roth, CEO of The Store WPP said. "This is the opportune time for Chinese brands to expand abroad, despite the many obstacles," he added.
According to the report, one challenge facing Chinese brands is that international consumers are generally less aware of and less likely to consider purchasing a Chinese brand than a local or globally recognized one.
The research also shows that the consumers in France, Germany and Spain are more aware of and likely to consider Chinese brands than consumers in Japan, Britain or America.
Let's take a look at the top ten companies listed in the report.
No 10 Hisense, Brand Power score 482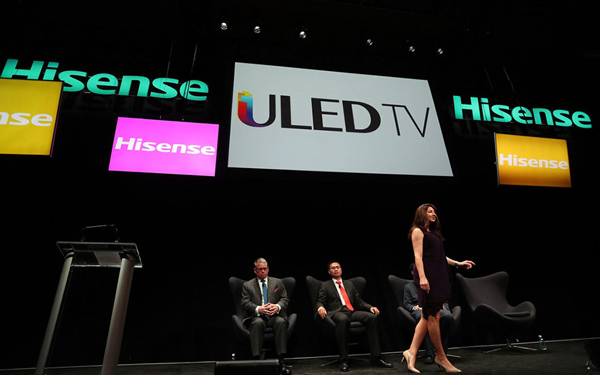 Amy Lessig, a Hisense product expert, talks about ULED TV at the 2017 International Consumer Electronics Show in Las Vegas, Jan 4, 2017. [Photo/IC]