Growing Chinese market target for UK toymakers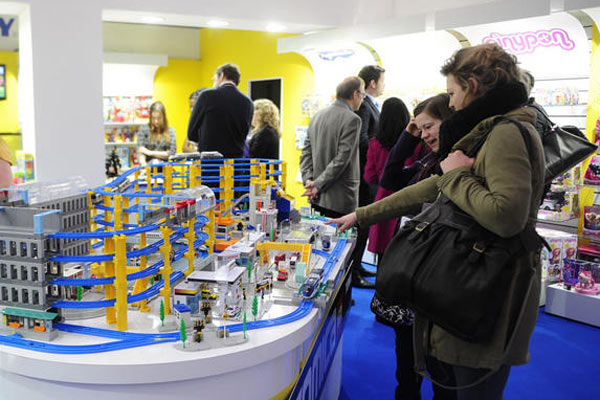 Visitors are seen on the Toy Fair at the Olympia Exhibition Center in London, Jan 27, 2011. [Photo/Xinhua]
China's growing middle class and changes in the family policy mean the country is a rapidly growing market being targeted by UK toymakers, according to UK-based toy expert John Baulch.
Speaking to China Daily from Asia's largest Toys and Games Fair at the Hong Kong Convention and Exhibition Center, he said: "UK toy companies are trying to open up the Asian market, particularly China, because it is a rapidly growing market."
The focus at this year's fair will be on high-tech products, which toy experts say are growing in popularity, besides classic and traditional toys.
"Not many toys are made in Britain anymore. The reality is that competing with China in terms of raw materials and labor costs is always a very difficult thing to do, but we do have some very good brands making headway in the Chinese market."
Christmas and the gift-giving season may have only just gone by, but analysts and manufacturers are already looking for the next bestseller for Christmas 2017.
Products such as STEM toys-that strengthen the learning of science, technology, engineering and mathematics-are predicted to be a hot item. So, some exhibitors are showing off their latest virtual reality and augmented reality products.
Peter Jenkinson, a self-described "toyologist" from UK company Playtime PR, told China Daily: "Usually one country will start off a trend and others would follow but with VR, markets in China, the US and UK all jumped on the phenomenon at once."
Jenkinson added: "VR gaming indeed made an impact on the video games market and augmented reality started to establish itself in the toy market. I am looking forward to toy companies developing their VR capabilities to create a new dimension in the 'toys to life' category."
However, Baulch warned that UK consumers will have to dig deeper in their pockets this year.
"2017 will be a very interesting and challenging year because, as a result of Brexit, the pound is very weak against the US dollar," Baulch said. "Most toys are produced in China and the currency there is pegged to the US dollar, so toys coming into the UK this year will cost a lot more than last because of the fluctuation in currency."
He added that the toy industry is looking at how to mitigate those circumstances.
According to the Hong Kong Trade Development Council, it is estimated that about 80 percent of toys worldwide are made in China.