Infrastructure to remain main economic growth engine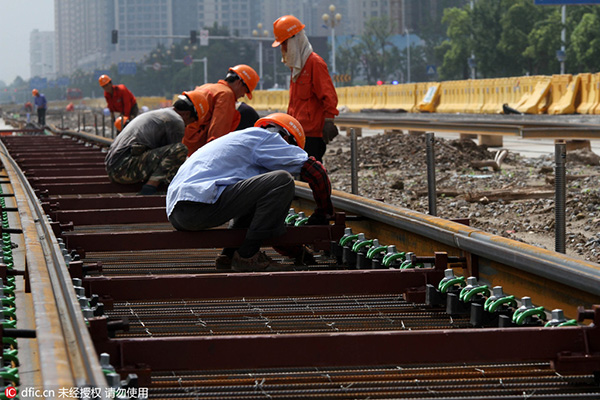 Chinese workers lay rails of a local light railway in Huaian city, East China's Jiangsu province, August 2, 2014.[Photo/IC]
Infrastructure is projected to remain the main growth engine for China's economy this year, creating a market worth 16 trillion yuan ($2.32 trillion), China Business News reported.
Some provinces have recently unveiled their investment plans for the new year. Both well-developed eastern provinces and underdeveloped western and central regions have put infrastructure investment, especially in the transportation sector, in an important position.
Among them, provinces such as Guangdong, Zhejiang, Henan and Guizhou have higher share of infrastructure investment figures, the newspaper said.
For example, Guangdong plans to invest 520 billion yuan in key projects in 2017, up 20 billion yuan from the previous year. The southern province also plans to start six railway and seven highway projects this year.
China's fixed-asset investment is forecast to grow at eight percent, said Xu Guangrui, director of the industry research institute under China Fortune Land Development Co Ltd.
Infrastructure is still a main engine for stabilizing investment and economic growth. In 2017, infrastructure investment will grow at a pace of 20 percent, creating a market worth 16 trillion yuan, Xu added.
Fixed-asset investment includes capital spent on infrastructure, property, machinery and other physical assets.
China's fixed-asset investment rose 8.3 percent year on year to 53.85 trillion yuan in the first 11 months of 2016, while infrastructure investment expanded 18.9 percent during the period, the National Bureau of Statistics said earlier.
Fixed-asset investment will focus on urban and rural infrastructure and major transportation projects, as well as some key projects and pillar industries based on supply-side reform, said Wu Weihai, executive director of International Cooperation Center of the National Development and Reform Commission.