Shenzhen attracts funds through HK link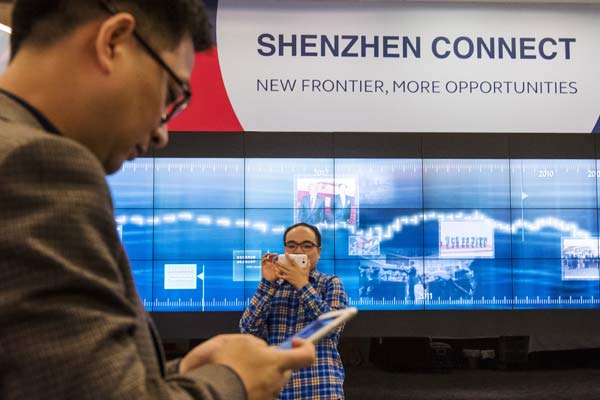 Visitors use smartphones to take photographs under a Shenzhen-Hong Kong Stock Connect sign, following the launch ceremony at the Hong Kong Stock Exchange. [Photo/Agencies]
Investors are showing stronger willingness to invest northbound, toward Shenzhen using the new Shenzhen-Hong Kong stocks link, according to figures for first full month of trading, as of Thursday. However, market analysts expect that the southbound flows, toward Hong Kong, are likely to be larger in the first half of this year.
In the month from the Dec 5 launch until Jan 4, northbound flows recorded a total turnover of 28.86 billion yuan ($4.2 billion) with an average daily turnover of 1.52 billion yuan-an average daily usage of 6.6 percent of the monthly allowance. Southbound flows saw a turnover of HK$9.9 billion ($1.28 billion) with an average daily turnover of HK$0.5 billion, 3.4 percent of the monthly allowance per day.
Daniel Lo Mun-keung, head of research at Zhongtai International Securities Limited, explained that the Shenzhen market includes more eligible and investable stocks and most of the sectors represent the new economy of China. Investors are attracted to allocating assets in these sectors despite the yuan's depreciation. He added that investors may have used other channels to hedge currency risks.
On Thursday, the remaining balance of the northbound trading quota of the second stock link equaled 12.37 billion yuan and the remaining balance of southbound trading quota was 10.21 billion yuan.
The northbound trading quota for Shanghai-Hong Kong stock connect had a net outflow of 912 million yuan with 13.912 billion yuan remaining in the allowance. The southbound quota still had a balance of 9.82 billion yuan, with a net inflow of 685 million yuan.
Lo expects both directions of both stock connects to be more active this year. As the yuan continues to face depreciation pressure this year, the stocks through train will become one of the few options for Chinese mainland investors to allocate assets overseas. He expects southbound flows to be stronger in the first half of 2017.
The city's benchmark Hang Seng Index rose 1.46 percent, or 322.22 points, to close at 22,456.69 on Thursday and the Hang Seng China Enterprise Index jumped 1.67 percent, 157.69 points, to 9598.68.
According to Lo, the advance of H shares is mainly due to the slowing rise of US stocks, leading to a reallocation of funds to emerging markets. Lo expects H shares to continue to have 10 percent upside growth potential in the coming two months.
The Shanghai Composite Index increased 0.21 percent to close at 3,165.41 and the Shenzhen Component Index moved down 0.13 percent to 10,371.47. The CSI 300 Index edged down 0.02 percent to 3,367.79.