Yuan rebounds against dollar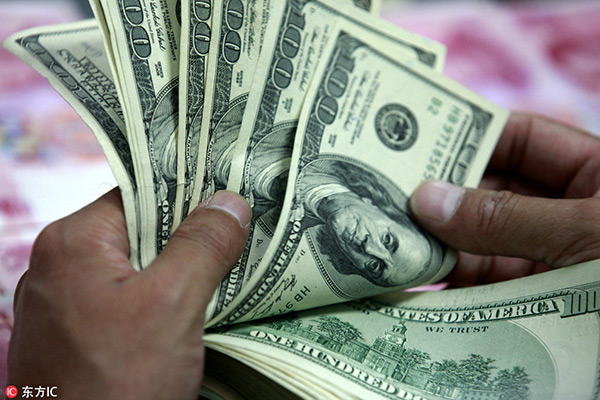 A Chinese clerk counts US dollar banknotes at a bank in Huaibei city, East China's Anhui province. [Photo/IC]
The yuan registered the biggest gain in a year in overnight trading in the offshore market on Thursday as the dollar weakened and China's monetary regulators strengthened scrutiny of foreign exchange purchases.
Some analysts said the yuan may only depreciate slightly or even rise against the dollar this year, as China's economic fundamentals improve.
In the offshore market, the yuan broke the 6.87 mark against the dollar in intraday trading to hit 6.8648, up by 900 basis points compared with the previous day's lowest level. It also rose strongly in onshore trading.
The central parity rate of the yuan, set by the People's Bank of China, was 6.9307 against the dollar on Thursday, up by 219 basis points from Wednesday, the biggest daily gain in percentage terms since Dec 6.
The yuan's rise against the dollar "was not triggered by an outright intervention by the PBOC. Instead, it is more like a knee-jerk reaction as there were massive stop-loss flows in the market", Zhou Hao, senior EM economist at Commerzbank, told Reuters.
Technically, the surging short-term borrowing cost of the yuan, with interest rates over 40 percent in Hong Kong, compared with less than 5 percent in early December, is behind the soaring yuan, analysts agreed. The high costs forced short sellers to square their positions, leading to the rebounding of the yuan.
The weakening of the dollar index, which fell below 102 in intraday trading on Thursday, and the expectations management of China's monetary regulators have contributed to the rise in the yuan's value, said Zheng Min, an analyst of Guoyuan Securities.
"The central bank has repeatedly said it will keep the yuan stable and its recent regulation of foreign exchange and capital flows has started to work," she said in a report.
She added that the dollar may continue to strengthen after US President-elect Donald Trump is sworn in later this month, but the yuan will not depreciate sharply against the greenback. "It may only depreciate slightly this year to about 7 against the dollar."
From a mid-to long-term perspective, the yuan's value is still determined by China's economic fundamentals, said Hu Yuexiao, chief analyst of the Shanghai Securities. China's economic growth is slowing, but it remains one of the fastest among major economies; its economic restructuring and supply-side structural reform will make it more competitive and its industrial policy and macroeconomic management are more efficient compared with many other economies, Hu said. "Those factors support a stable yuan."