Central bank advisor calls for more flexible GDP growth target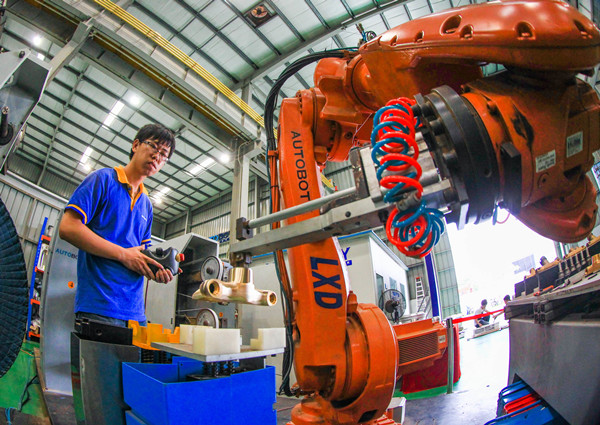 A worker assembles a robotic arm at a factory in Foshan, Guangdong province. [Photo provided to China Daily]
BEIJING - A central bank advisor has suggested the Chinese government should set a more flexible target for economic growth in 2017 to give more room for reform.
Huang Yiping, member of the central bank monetary policy committee and an economist at Peking University, proposed a GDP growth target range of 6-7 percent for this year, compared with 6.5-7 percent in 2016.
The government aims to realize an average annual GDP growth of at least 6.5 percent in 2016-2020 in order to double GDP and per capita residential income from the 2010 level.
"The 6.5-percent target is just an average rate," Huang told Xinhua in an interview. "As long as employment is stable, a slightly wider growth target range in the short term will reduce the need for pro-growth efforts and give policy makers more room to focus on reforms."
For example, there remain a large number of "zombie companies" that are economically inviable but survive on government and bank aid, which brings down the overall efficiency of resource allocation in the economy, Huang said.
As its growth slows, China is trying to shift from an export and investment-driven economy to one based on consumption, services and innovation. The government has moved to cut excessive and outdated capacity and encourage industrial upgrading.
The 2017 GDP growth target will determine the government's monetary policy this year, Huang said.
"Large-scale monetary loosening is unlikely, while the possibility of tightening can not be ruled out," he predicted, citing inflation concerns, higher US interest rates and a weakening yuan.
While the Chinese currency is under pressure from US interest rate hikes in the short term, Huang believes the yuan's exchange rate will be largely unaffected by investors' expectations about China's economic growth.
In addition, as Chinese residents diversify their investment portfolio, capital outflow will "last only for a certain period" in future, he said.