Fund aims to be a long-term investor
China Investment Corp chief says it is seeking Belt and Road opportunities
China's $800 billion sovereign wealth fund aims to be a long-term investor in international investments and increase its close work with partners to seek opportunities under the Belt and Road Initiative, its top executive said.
China Investment Corp President Tu Guangshao said cross-border investment is vital for China's economic growth and structural adjustment.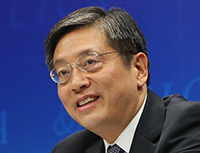 Tu Guangshao, president of China Investment Corp. [Photo provided to China Daily]
"As a financial investor, China Investment Corp is not seeking to control industry. Instead, we want to cooperate with partners at home and abroad to participate in global investment and create a win-win situation," Tu said.
His comments came after the latest move, with China Investment Corp, Hopu Investment Management and Hillhouse Capital Management holding talks about making a joint offer for Singapore-based Global Logistic Properties Ltd, according to news agency Bloomberg in November.
Tu said regional cooperation is an important part of globalization and the Belt and Road Initiative is a key development of regional cooperation. He added that CIC will work closely with its partners to seek opportunities under the initiative.
There are challenges in cross-boarder investment, such as the relationship between economic benefits and social responsibility, labor and environmental protection and the difficulties in developing multilateral investment agreements, according to Tu.
Jiang Guorong, a managing director of UBS Group AG, said China's cross-border investment had developed rapidly since 2015 because of a number of factors.
"Increasing demand for companies' business, increases in production capacity and output, overseas technology and capital and global asset allocation, can explain the booming cross-border investments," Jiang said.
Jiang said developed economies such as the United States and Europe had been popular destinations for cross-border investments, while countries along the Belt and Road would be increasingly attractive.
Ding Xuedong, chairman of China Investment Corporation, said that CIC in future would pay more attention to alternative investments-asset classes other than stocks, bonds and cash-and set up a sustainable development mechanism to prevent risks. Previously, CIC mainly invested in equities and fixed income.
According to CIC's financial report of 2015, China Investment Corp had assets totaling more than $810 billion under management by the end of 2015.
The report also said that due to volatilities in international financial markets-and foreign exchange losses triggered by an appreciating US dollar-CIC's overseas investments generated a dollar-denominated negative net return of-2.96 percent in 2015 and a net cumulative annualized return of 4.58 percent since CIC's inception.