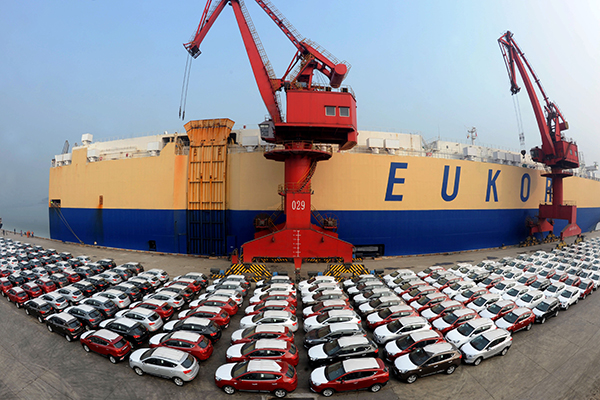 Rows of Chinese automobiles are lined up in Lianyungang Port, Jiangsu province, in January,2016 waiting to be shipped to Brazil. [Photo/China Daily]

Policymakers still have ample ammunition to use if they need it
China's economic growth stabilized in the first half of this year, with initial signs showing it could continue to be stable during the rest of the year, say analysts.
Even though the country's GDP growth dipped to 6.7 per-cent year-on-year in the first six months, according to the National Bureau of Statistics, fixed-asset investment grew 9 percent year-on-year in the same period and retail sales increased by 10.3 percent. And China's GDP growth is within its targeted range of 6.5 to 7 percent for this year, while its industrial and investment structures have improved, with growth of high-tech and consumption products increasing strongly, analysts say.
"China's economic trend in the first half has stabilized thanks to boosting policies and other stabilization-oriented measures," says Zhang Liqun, an economist with the Development Research Center of the State Council, China's Cabinet.
But since the global economic recovery is still weak and developed countries' policy-makers seem unable to find effective solutions to boost their economies, external demand will remain weak for some time, affecting China's exports in the second half of the year, says Justin Yifu Lin, an economist with Peking University.
Despite the many un certainties facing the global economy, China's GDP growth could reach 6.7 percent in the third quarter thanks to rising numbers of new construction projects and increasing infra-structure investment, as well as brisk growth of consumption and new industries, says a Bank of China report.
"The Chinese economy is not in for a hard landing since it boasts a large domes-tic market and it is still pursuing urbanization and industrialization, which will serve as growth engines," Zhang says.
In July, some indicators, such as fixed-asset investment, weakened, but the prof-it levels of major industrial enterprises rose by 6.9 per-cent year-on-year in the first seven months. In July, profits of these enterprises grew by 11 percent, up from 5.9 percent in June.
"The rise in industrial profits means, from amid-to long-term perspective, China's economic fundamentals have shown positive changes," says Deng Haiqing, an economist with JZ Securities.
Reflecting such optimism, Robert Kaplan, president of the Federal Reserve Bank of Dallas in the United States, said in late August that China's economic fundamentals have improved compared with the figures for early this year.
Even if the prospects turn out to be not as bright as expected, policymakers still have ample ammunition to anchor the situation, analysts say.
Policy support may intensify if growth slows, which is likely in the fourth quarter, says a UBS report.
If investment continues to slow and downward pressures on the economy become more apparent, China will probably intensify policy support again to meet its 2016 GDP growth, the report says, adding that measures may include boosting infrastructure and other public investments, by providing credit support and accelerating pro-growth reforms to stimulate private investment and consumption.