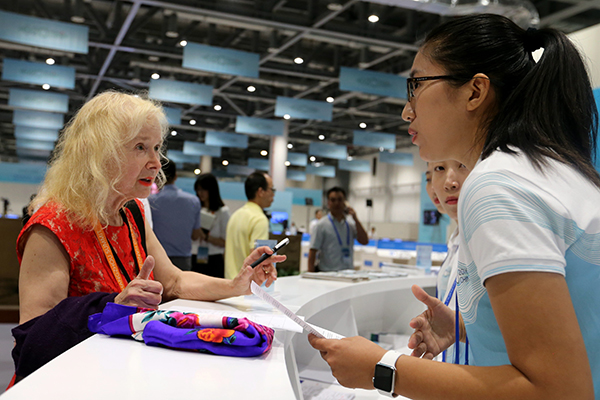 A volunteer responds to a US reporter's questions in the media center at the G20 Summit venue on Thursday. The center opened on Sept 1, 2016. [Photo/China Daily]
Foreign journalists are hoping that China can draw the world's attention to economic growth and developing countries during the G20 Summit as they prepared for the coverage of the event on Thursday.
Carla Stea, a journalist at the Centre for Research on Globalization, an independent research and media organization in Montreal, Canada, said she hopes most that China can persuade other countries to adopt win-win cooperation as opposed to the zero sum game.
"I hope China will be effective in convincing other countries to invest more money in human development and less money in military and nuclear weapons," said Stea on the opening day of the media center. "The more the developed world invests in underdeveloped countries, the more interest the underdeveloped countries have to pay on the debt, as well as interest on the interest. This has to stop, and we need to restructure the foreign debt for these underdeveloped countries."
Vice-Foreign Minister Zhang Ming said the Hangzhou G20 Summit will focus more on developing countries than previous summits did. The development of African countries in particular will be an important issue.
Walter Michael, a CCTV journalist, said China's emphasis on the developing world is a welcoming move.
"It is great that China has invited a lot of developing countries to the summit. Inclusivity is a big theme of this summit. The developing countries deserve a spot at the table. It's good for world leaders to hear what they have to say," he said.
Joao Netto, a reporter for Brazil's NBR Television, said sustainable development is his key concern as the world leaders get together and come up with strategies to spur the sluggish economy. "The main points of my reporting will include sustainable development and global economic recovery because Brazil is in an economic crisis," said Netto.
Nearly 5,000 journalists from some 70 countries have registered for the Hangzhou summit. A 15,000-square-meter media center has been built to help them. The center is equipped with Chinese and English phones that provide real-time simultaneous interpretation service of 14 languages spoken at the event.
There are 500 personal computers at service in the hall and 1,500 seats for journalists in the center. More than 40 agencies from China and abroad have moved in the office rooms.
Wang Xi'ning, head of the G20 Summit's press center, said 24-hour nonstop service will start on Saturday to better serve reporters.
"First-tier technology and equipment at the center has been prepared to help reporters immediately spread text, pictures, audio and video. ... China has always been proactive in providing information of various types to journalists from around the world," Wang said.