Making group investment viable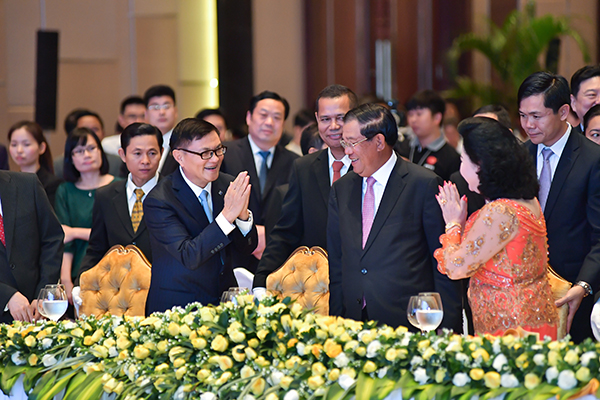 Dong Wenbiao (left), chairman of China Minsheng Investment Group, meets Cambodian Premier Hun Sen (middle) and his wife during the first-ever Cambodia-China Business and Financial Development Forum held in Phnom Penh on Dec 1, 2016. [Photo/China Daily]
CMIG leads Chinese companies in new model in Cambodia to help reduce risks, multiply advantages
Cambodia has never been a popular destination for Chinese investors. Not for long though.
Particularly for State-owned enterprises or SOEs that, in recent years, have spent lavishly acquiring landmark projects in North America, western Europe and bigger economies in the ASEAN region, Cambodia has been a bit of a no-no.
For, among its Southeast Asian peers, Cambodia ranks only eighth in terms of economy size.
According to the International Monetary Fund's 2015 data, Cambodia's GDP per capita of less than $3,500 contrasts with Singapore's nearly $85,000, and sits at the bottom of the 10-country bloc.
Yet, for Dong Wenbiao, chairman of China Minsheng Investment Group or CMIG, Cambodia's poor foundation may be hiding many opportunities.
The country will be an ideal destination for China's leading private enterprises, if they go and invest together rather than individually. Toward this end, CMIG is pioneering a "group investment" model.
CMIG comprises 59 private enterprises. It was founded in Shanghai in 2014 with a registered capital of 50 billion yuan. CMIG's total assets have since snowballed to 200 billion yuan.
According to Dong, to reduce risks and multiply their advantages, Chinese private-sector enterprises from different sectors would be better off investing abroad in groups, given that they can't match the financial muscle of SOEs.
Dong has been so enthusiastic in promoting the model that nothing, not even constant power failures during a media conference at a new luxury hotel in Phnom Penh, would dent his belief in Cambodia. For Dong, embarrassments like power failures not only reflect the severe infrastructure shortage in the country but represent potential opportunities for foreign investors.
That is what he told the first-ever Cambodia-China Business and Financial Development Forum on Dec 1, organized by CMIG and Ly Yong Phat or LYP Group, a local conglomerate.
"Cambodia has huge room to develop infrastructure... Many of the CMIG's shareholders are leaders in water, electricity and gas infrastructure. They will work with local governments in the future," he said.
Dong said CMIG's plan also includes helping Cambodia to develop clean energy, real estate, and financial services.
Three related deals were signed as a result of the forum.
They include a $1.5 billion deal to develop Cambodia-China Friendship City by LYP Group and SRE Group of Shanghai. The city will be a subdivision of a 2,000-hectare satellite city in northern Phnom Penh.
What was more significant than the forum was that China's leading private-sector tycoons from various industries gathered together in Cambodia, under the aegis of CMIG, to seek investment opportunities.
The CMIG-led delegation included real estate developer SRE Group, and financial institutions Guangxi Beibu Gulf Bank and Fudian Bank.
In the run-up to the forums, Cambodian Prime Minister Hun Sen even held a meeting with Dong in Phnom Penh in September.
Li Huaizhen, president and CEO of CMIG, said the forums typify the potential of the group investment model to band together industrial and financial players for a common goal of "coordinated development" abroad. "Such a model will have strong vitality."
China is CMIG's focus with more than 80 percent of its business in the domestic market. But Li noted that it is consistently seeking business opportunities overseas, including along the vast area covered by the Belt and Road Initiative.
CMIG International Holding, a subsidiary of CMIG, acquired Sirius International Insurance Group in Singapore in August 2015, marking CMIG's entry into global insurance.
The group had said in 2015 that it will guide dozens of leading Chinese private enterprises to jointly invest $5 billion in Indonesia to construct CMIG Indonesia Industrial Park.
CMIG later pledged 100 million yuan ($14.5 million) to fund executive education in China of Indonesian managers and Chinese executives seeking investment opportunities in the archipelago for 10 years.
Under the first Belt and Road Initiative-CMIG-Tsinghua Pilot Program for Indonesian Entrepreneurs, 15 students started classes at the Tsinghua School of Economics and Management in late July. They are the founders or senior executives of Indonesian enterprises in fields such as agriculture, manufacturing, trade and services.