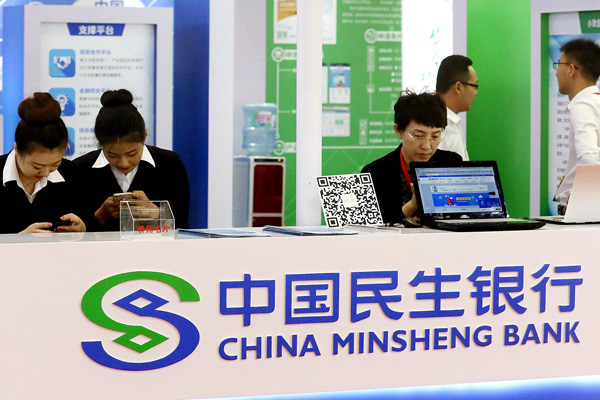 A China Minsheng Banking Corp stand at a finance fair in Beijing. [Photo by Lei Kesi/For China Daily]
China Minsheng Banking Corp is studying plans to set up an bad-loan asset management company, as the Chinese lender seeks ways to rid itself of some of its $5.7 billion of non-performing loans (NPLs), people with knowledge of the matter said.
Minsheng Bank is seeking guidance from the banking regulator on establishing such an entity, including details on its potential business scope and ownership structure, said the people, asking not to be identified as they aren't authorized to speak publicly. If the proposal proceeds, Minsheng Bank will be the first Chinese lender to operate a so-called bad-loan manager.
The Beijing-based lender would be entering a market created in 1999, when China's government established four asset managers to help clean up a banking system riddled with soured credit. Minsheng President Zheng Wanchun previously ran one of the firms-Great Wall Asset Management Co-and was an executive at another, Huarong Asset Management Co.
With economic growth slowing, China's banks once again find themselves under pressure from mounting bad debts. Minsheng Bank's bad-loan ratio rose to 1.67 percent as of June 30, the highest since 2007, according to data compiled by Bloomberg.
Only asset management companies, also known as AMCs, are allowed to buy bad loans directly from banks. After purchasing nonperforming debt, they typically restructure it or sell the loans on to other investors.
The four national asset managers and 21 provincial ones are benefiting from a "buyer's market" for bad loans, paying as little as 20 cents on the dollar, Guotai Junan Securities Co analysts said in a note in March, adding that the authorities were likely to license more firms. Huarong's profit jumped 35 percent in the first half from a year earlier, while China Cinda Asset Management Co increased net income by 2.4 percent.
Minsheng Bank has already recruited some staff from Huarong as it prepares to start the venture, one of the people said. A Minsheng Bank spokesman declined to comment. Calls to the China Banking Regulatory Commission were not returned. No comment was immediately available from Huarong.
Bloomberg