Gas pipeline firms diversify ownership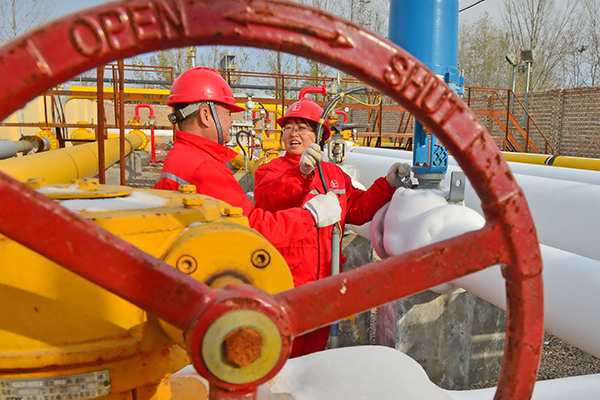 Employees of China Petroleum& Chemical Corp check natural gas pipelines in Puyang, Henan province. [Photo/China Daily]
Latest moves could be prelude to private capital entering the industry
China Petroleum & Chemical Corp, usually known as Sinopec, has sold half of the shares of its gas pipeline business to another two State-owned enterprises. This is seen as a move to diversify the share ownership of the oil and gas industry, that has been strictly controlled by State-owned enterprises.
According to the statement by Sinopec on Monday, China Life, the largest State-owned insurance company in China by revenue, will pay 20 billion yuan ($2.9 billion) for a 43.86 percent stake in the pipeline.
State Development & Investment Corp (SDIC), a State-owned investment holding company with its main investments in infrastructure-related business, will get the remaining 6.14 percent for 2.8 billion yuan.
The registered capital of the pipeline company will increase from 100 million to 200 million yuan.
Sinopec, one of China's top three energy companies, will use the funds to expand the capacity of the pipeline unit, Sinopec Sichuan-to-East China Gas Pipeline Co, build gas-storage facilities and push forward its natural gas business, according to the statement.
Liu Guangbin, an oil and gas analyst with Shandong-based bulk commodity information company Sublime China Information Group Co Ltd, said that although the share transfer is still between the State-owned enterprises, it has set an example for private capital to enter the highly monopolized industry.
"This is the first time for the gas pipeline sector of Sinopec to introduce outside capital. It can be expected that social funds will be attracted to the sector to provide solid capital for gas infrastructure construction," said Liu.
Liu added that the gas pipeline sector has relatively stable profitability and low risks, making it a good place to start for mixed ownership of the oil and gas industry. Moreover, the sector has been a good profit generator, as shown in the earnings report of the top three oil and gas companies in recent years.
"China National Petroleum Corporation has gone further in capital diversification. It has already introduced the social security fund and private capital to its gas pipeline sector," said Liu.
In 2014, the National Energy Administration issued a trial regulation on gas pipelines in response to the market's calling for private capital to enter the sector.