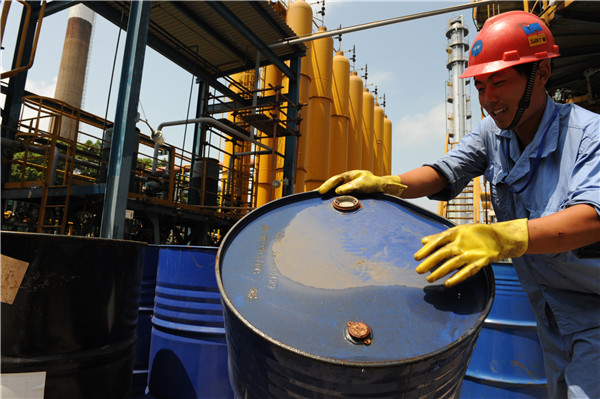 A worker handles an oil container at the Zhenhai refinery in Ningbo, Zhejiang province. The refinery plans big investments before 2018 in restructuring and upgrading its oil businesses.HU QINGMING/CHINA DAILY
Refinery plans to invest 16.9 billion yuan before 2018 to restructure and upgrade its oil refining business
Zhenhai Refining& Chemical Co, Sinopec's largest refining unit, plans to build itself into a world-class crude processing base, as it benefits from the refining business amid the biggest crude price slump in a generation.
"If we want to play on a global stage, we should build ourselves into a world-class business. This means that we need a larger capacity for high-quality products," said Zhang Yuming, general manager of the Zhenhai refinery.
Located in Ningbo, Zhejiang province, the Zhenhai refinery is the most profitable company under Sinopec, the world's biggest refiner.
Last year, the company said its profit almost tripled compared with the previous year, but did not reveal further details about the figure.
Zhang said the company is expected to invest about 16.9 billion yuan ($2.53 billion) before 2018 in restructuring and upgrading its refined oil businesses.
The investment came as a slump in crude prices benefits fuel producers such as Sinopec.
Sinopec announced its first-half profit of 19.9 billion yuan, down 21.3 percent year-on-year, according to a recent filing to the Hong Kong Stock Exchange.
The other oil major PetroChina Co, the listed arm of China National PetroleumCorp, saw its net income drop to 531 million yuan in the first half, a 98 percent decline.
Lin Boqiang, director of the Center for Energy Economics Research at Xiamen University, said the downward trend in oil prices is likely to prevail for a while, so a bigger exposure to the refining business will put Sinopec in a good position to weather the losses caused by the worst turmoil in the oil industry.
Sinopec processed 115.9 million metric tons of crude into fuel in the first half of the year. That's roughly equal to almost 4.67 million barrels a day, according to Bloomberg calculations.
Sinopec will raise refining output in the second half of the year to 120 million tons, up 3.5 percent from the first six months, the company said.
Sinopec cut capital expenditure in the first half of the year by more than 40 percent from the same period in 2015 to 13.5 billion yuan.