Double 12 spree goes global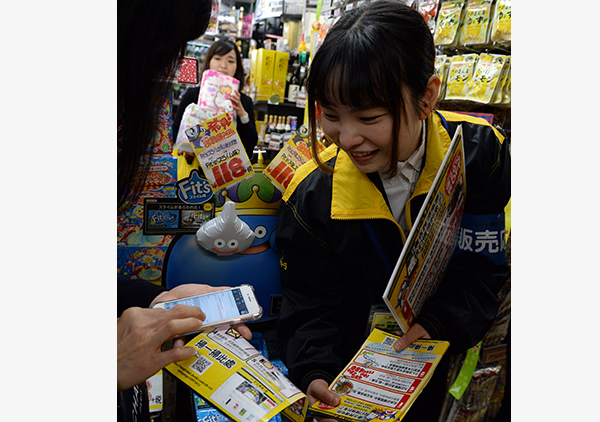 A supermarket employee explains what categories of products will get a discount, if paid through Alipay, in Tokyo, before the Double 12 (Dec 12) shopping spree. [Photo/Xinhua]
Why have one massive shopping gala when you can have two?
Just one month after the record-breaking Singles Day festival, Alibaba Group Holding Ltd shifted the focus of the Double 12 (Dec 12) shopping spree outside of the Chinese mainland, with overseas transactions more than tripling year-on-year via mobile wallet Alipay.
More than 70,000 overseas merchants across the United States, the United Kingdom, France and New Zealand joined the sales festival on Dec 10-12.
People spent the most in France at 26,000 yuan ($3,760) per person on average and the UK at 11,000 yuan using Alipay, according to company figures.
The largest single purchase, for 158,000 yuan, was made by a buyer from Shanghai at the high-end Harrods department store in London.
China's post-1990 generation are generous spenders, accounting for a startling 40 percent of all overseas buyers who pay their bills with phones. Youngsters from northern China's Shanxi province topped the ranking, with an average spending of 3,000 yuan via Alipay.
The digital wallet also handled more than 20,000 simplified tax refunds for purchases made by Chinese tourists. The highest amount of refund reached 27,589 yuan.
From fast food to movie tickets, more than 110 million bargain-hunters headed to shopping malls and supermarkets for deals where Alipay was used as a means of payment.
Shanghai, Hangzhou and Beijing saw the highest number of buyers taking part in the extravaganza. People under the age of 30, who are more savvy with wireless payment, accounted for more than two-thirds of all shoppers involved.
"During the Double 12 gala, customer traffic in our stores was more than double that of weekends. It's even 20 percent higher than during national holidays," said Jiang Wenjun, marketing manager at Shanghai's Longemont shopping center, the largest single venue attracting the most people in the offline promotion.
Partnered with Alipay and Koubei, Alibaba's local-services platform, traditional businesses can be involved in omnichannel retailing utilizing the pervasiveness of smartphones, and blend the strengths of online and offline experiences, said Gao Tiesheng, head of the China Marketing Association.
"Alibaba is trying to blur the lines between online and offline commerce, which is conducive to boosting consumer spending," Gao said.