AC Milan buyers given 3-month delay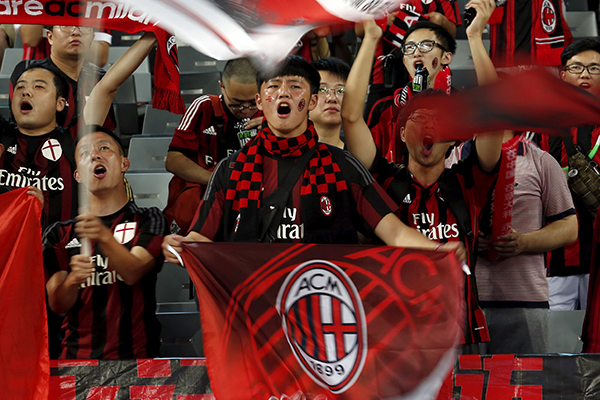 Chinese fans of the AC Milan soccer team sing during a friendly match in Shenzhen, Guangdong province. [Photo/Agencies]
Former Italian premier Silvio Berlusconi granted a three-month delay to the Chinese investment group seeking to buy his AC Milan soccer team, after the buyers failed to get authorization for the deal from local authorities, according to people familiar with the matter.
Advisers to Berlusconi's Fininvest SpA holding company and the Chinese group, Sino-Europe Sports Investment, agreed to delay the closing until as late as the end of February in exchange of an additional, non-refundable deposit of 100 million euros ($107 million), the people said, asking not to be identified because the talks are private. The deposit will have to be paid by Dec 13, the original closing date, otherwise the deal falls apart, the people said.
The delay marks a new twist in an odyssey that started in August, when Fininvest agreed to sell AC Milan to a little-known group of Chinese investors for 740 million euros including debt.
The group, which made an initial deposit of 100 million euros, didn't have all the financing in place when it agreed to purchase the Italian club, people familiar with the matter said in September. The group led by Chinese businessman Li Yonghong hasn't revealed its full list of investors.
The purchase agreement includes a requirement to provide 350 million euros of added funding to AC Milan over a three-year period. Li's group allegedly provided a false bank report during its initial deal negotiations. A spokesman for Sino-Europe said Sept 23 that speculation about fake documents is "groundless" and that the group was considering legal action.
Sino-Europe would consider building a new stadium as part of its expansion plans. The consortium has been telling potential partners they could earn outsized returns if AC Milan eventually lists on a Chinese stock exchange, where companies trade at a premium to Western markets.
Bloomberg