Alipay shopping fest soars in Santa's Finland hometown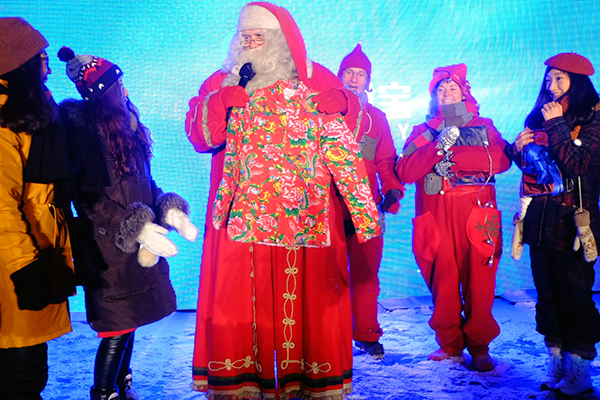 Merchants and Chinese tourists attend the opening ceremony of the 12.12 shopping festival at Santa Claus village in Rovaniemi, Finland, on Dec 6, 2016. [Photo/China Daily]
China's high-spending tourists are reaching some of the most remote parts of Europe-evidenced by the fact that the Chinese payment platform Alipay gained acceptance at more than 100 shops, restaurants and hotels in the northern Finnish city of Rovaniemi within a month.
Rovaniemi, capital of the northern Finnish province of Lapland and famous for its Santa Claus village, a tourist attraction, is also the location Alipay chose to launch its 12.12 shopping festival, which gives discounts to Chinese shoppers between Dec 9 and 12 across 70,000 merchants in 16 countries globally.
The launch ceremony, held in Santa Claus village on Tuesday, was attended by Rovaniemi Mayor Esko Lotvonen, some of Alipay's local merchants partners and some Chinese tourists.
Lotvonen said the Alipay's choice to launch the festival there was a sign of the friendship between China and Finland, and he hopes to welcome more Chinese tourists.
Alipay is the payment arm of Ant Financial Services Group, itself an affiliate firm of internet giant Alibaba Group Holding Ltd. With 450 million users in China, Alipay is now fast expanding internationally, offering tourists with easy and secure payment support.
Now in its third year, 12.12 is a shopping festival that Alipay has used to encourage more purchases, similar to the 11.11 Singles Day shopping festival.
Whereas 11.11 focuses on online shopping, 12.12 offers are only available when making purchases offline-in stores, restaurants and hotels.
In Finland, Alipay cooperates with mobile payment provider ePassi, which already works with about 10,000 merchants in Finland. When Chinese shoppers pay with Alipay, Finnish merchants will receive money into their ePassi wallets within seconds.
"Traditionally, Chinese travelers to Finland encounter two challenges: tourist information is not extensively available in Chinese and they often need to carry lots of cash on their travels, Alipay's entry into Finland solves both challenges," said Alexander Yin, chief financial officer of TCG, the parent company of ePassi.
Alipay offers payment convenience, and its app also provides practical information about its partner merchants in Finland, helping these merchants to more effectively attract Chinese tourists.
Alipay is being embraced by Finnish merchants.
"We are so glad to add Alipay as a new payment method, after having this request from Chinese shoppers for so long," said Tanja Keisu-Makinen, Helsinki Airport store manager of Finnish watchmaker Lindroos.
"We've already had some Alipay transactions in our store, even though we've just launched it for a week," added Tina Jokinen, Helsinki Airport store manager of the local glassworks manufacturer Littala.
Alipay was used by 120 million users overseas last year. It also cooperates with Germany's Wirecard and France's Ingenico, in a similar way to its links with ePassi in Finland.
"Alipay gives me so much convenience and is very easy to use," said Cao Binjie, 27, a tourist from Guangzhou who used Alipay to buy a deer-skin mat, magnets and postcards from the Santa Claus village souvenir shop.