ABB aims to cash in on Belt & Road
Editor's note: Three years ago, President Xi Jinping launched China's ambitious Belt and Road Initiative, to link vast transcontinental swathes with a common economic thread. The initiative brought unprecedented opportunities to companies worldwide to expand their business and access new markets. China Daily presents a series of interviews with top executives of foreign companies, looking at the impact of the initiative on their operations as well as markets. Ulrich Spiesshofer, global head of ABB Group, talks of his intention to form more partnerships with China's power, transportation and energy companies to develop EPC projects along the Belt and Road Initiative.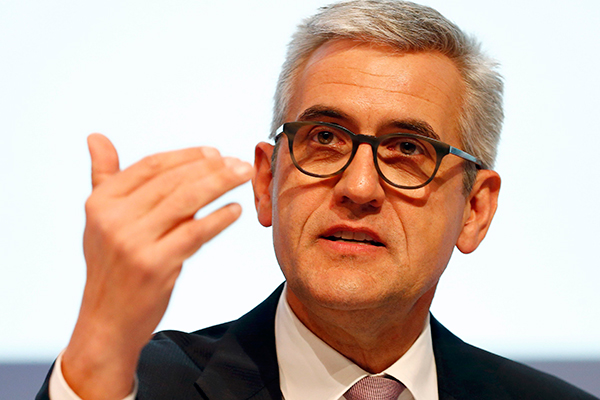 Ulrich Spiesshofer, CEO of ABB Group. [Photo provided to China Daily]
ABB Group, the Swiss power and automation company, wants to form more partnerships with China's power, transportation and energy companies to develop engineering, procurement and construction projects along the Belt and Road Initiative, to further diversify its global sales, said its global head.
Ulrich Spiesshofer, its chief executive officer, said with three years of development, the Belt and Road Initiative has proved to be a practical tool driving the growth of both global and Chinese companies.
Countries such as Turkey, Russia, Pakistan and India as well as countries in the Middle East and Africa all have demand in their markets to improve their power and infrastructure sectors, which is attractive to these companies.
The initiative has brought new opportunities in overseas projects for Chinese EPC companies. Chinese companies signed about 4,000 overseas EPC contracts in 60 countries and regions along the route of the initiative in 2015, while the total contract value reached $93 billion, according to data from the Ministry of Commerce.
ABB has provided tailor-made traction motors for the 95 trains designed by CRRC Tangshan Co Ltd for line 2 of the Izmir metro in Turkey.
The company also offered a 220 kV main substation solution to Sinopec for its EPC project in Atyrau Refinery, Kazakhstan, as well as supplying a 6,000 metric ton per-day cement processing line in Saudi Arabia for China National Building Material Corp and 420KV switchgears to China Machinery Engineering Co for its project in Angola's Soyo power plant.
EPC projects are a common form of contracting arrangement in the construction industry.
"We have deployed more than 30,000 employees across the world to help global cooperation which is an advanced platform for us to integrate the business with many sectors in different countries, not only in the fields of power or regional connectivity, we are also proficient in providing maritime equipments and solutions to our customers," said Spiesshofer.
The Swiss firm employs 18,000 people in China and operates 40 local firms across a sales and service network in 147 cities.
Claudio Facchin, president of ABB's power grids division worldwide, said ABB has partnered with Chinese companies to complete more than 1,000 projects over the past decade, which has significantly supported both industrial and infrastructure development.
"The power sector is undergoing unprecedented change both from a demand and supply perspective, with the influx of renewables being a major game changer. This not only requires the grid to become more flexible and reliable but also to be more intelligent and automated," said Facchin, who was previously stationed in Beijing and responsible for the company's operations in China and North Asia.
He said the company is providing key technologies for incorporating clean energy into conventional grids. For instance, its high-voltage direct-current technology can ensure efficient and reliable long-distance electricity transfer. ABB worked on the Xiangjiaba-Shanghai electricity transmission link which transfers enough clean energy across more than 2,000 kilometers to serve the needs of nearly 24 million users using HVDC technology.
ABB has more than 110 HVDC projects worldwide. It has been involved in 26 HVDC projects in China so far.