Bank of China deals with nonperforming loans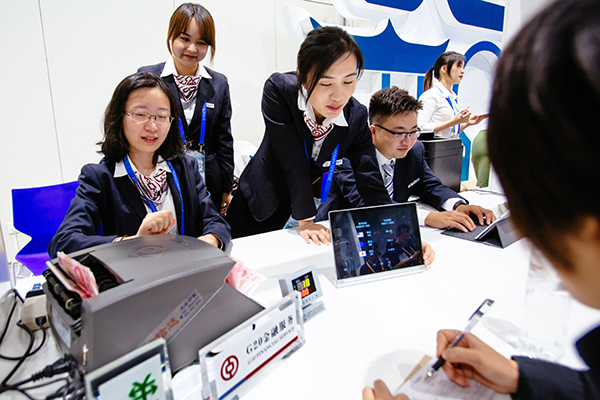 Employees of Bank of China Ltd provide currency exchange services to customers at the media center of the G20 Summit in Hangzhou, Zhejiang province. [Photo/Xinhua]
Growing trend of NPLs attributed to economic downturn and transformation of industries
Bank of China Ltd, the nation's fourth largest commercial lender by assets, said it had stepped up resolution of nonperforming loans because it saw continued growth in NPLs during the first three quarters of 2016.
The bank and its subsidiaries, reported nonperforming loans totaling 146.03 billion yuan ($21.55 billion) at the end of September, rising 13 percent from the previous year. Its NPL ratio also went up 5 basis points to 1.48 percent, the group announced on Wednesday evening.
"The Chinese banking sector identified the upward trend of nonperforming loans, mainly caused by the economic down-turn, industrial transformation and corporate restructuring, which will continue for a while," said Wu Qing, director of the comprehensive research office of the Research Institute of Finance at the Development Research Center of the State Council."Banks have done a lot of work, such as increasing NPL write-offs and relaunching debt-for-equity swaps."
To handle the rise in NPLs, Bank of China said it and its subsidiaries made stronger efforts to resolve a total of 87.5 billion yuan of NPLs in the first three quarters, increasing by 23 percent from a year earlier. During the same period, it accelerated NPL resolution measures through the exploration of new channels, such as bad assets securitization.
On May 26, the bank issued 301 million yuan securities backed by nonperforming corporate loans. Of the total, 78 percent was a senior tranche worth 234.78 million yuan, with a fixed coupon rate of 3.42 percent, and the rest was an equity tranche worth 66.22 million yuan.
Apart from expanding channels for bad assets disposal, the group also increased its impairment provisions on domestic loans during the first nine months. As a result, its impairment losses on assets amounted to 63.97 billion yuan, a 42.49 percent increase from the same period of 2015. The ratio of allowance for loan impairment losses to NPLs rose by 2.11 percentage points to 155.83 percent.
In spite of the growth of loan impairment provisions, profit attributable to equity holders of the bank still went up 2.48 percent from the previous year to 134.81 billion yuan during the first nine months.