Investor Rogers sounds economic note of caution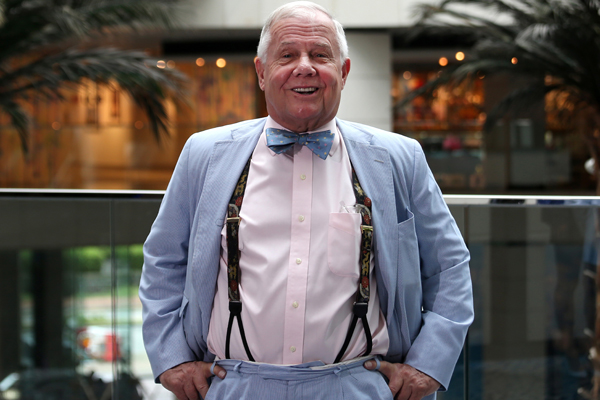 Jim Rogers, co-founder of Quantum Fund. [Photo provided to China Daily]
Jim Rogers, renowned US investor and co-founder of Quantum Fund, said he has deep concerns about the global economy's health in the next three years.
Chinese companies should control both their exposure to Western markets and internal debt, he said in an interview with China Daily in Hong Kong last week.
The next year will see "problems and surprises" as the economies of Japan, Russia, Brazil, the United States and Europe will likely get worse, affecting Chinese companies, he said.
Major Western countries are already suffering from a partial recession. Uncertainty will deepen next year, he said.
China is the largest trading country, and will be next great economy in the world. But as the rest of the world has problems, China may not be able to avoid a setback on the global front, Rogers said.
China will have to take the challenge of managing its debt levels at the same time, he cautioned, adding that a major fundamental change in the Chinese economy is the increasing debt of individuals, companies and provincial governments, a far cry from the past.
"There is nothing wrong with debt if you manage it properly," Rogers said. "If you borrowed the money for productive reasons to build factories, improve efficiency, earn sales, make profits and pay off the debts, it's great. But if you didn't or make mistakes, such as to seek too much expansion, you will suffer."
Rogers said he prefers investing in companies in the business of pollution control, healthcare, agriculture, along with those aligned with the government program to strengthen ties with countries on the old Silk Road. "I think those companies will do well, no matter what happens.
"I am bullish on agriculture everywhere, especially in China, as it has been depressed for 30 years globally."
He said the property market in China appears overpriced and a bubble may have formed. "If you want to buy property, go to the farm, the rural areas and countryside."
He believes technology is becoming a great driver of the economy. Two decades ago, it was the US and Europe that led technology. But now, China is set to produce 10 times as many engineers as the US had. And, in the next couple of decades, it will become a leader in technology, he said.
As for his investment preferences, Rogers said: "I am not buying equities and bonds anywhere, but may invest in agriculture commodities. I own gold but am not buying gold and waiting for its price to fall down to buy a lot more."