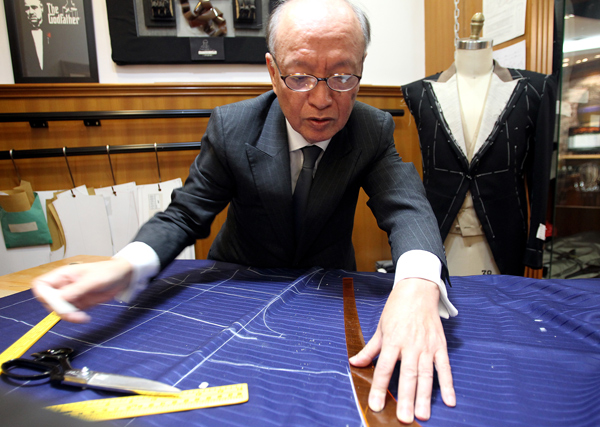 Dave Shiung makes a suit at his store Dave's Custom Tailoring at Kerry Center in Beijing. [Photo by Zhang Wei/China Daily]
Dave Shiung, a tailor from Taiwan province, nearly 70, and the owner of Dave's Custom Tailoring, is as seasoned a professional as you can get anywhere. Decades of sewing the finest clothes, particularly bespoke suits for men, make him an authority-he certainly speaks like one-on the art and science of custom tailoring.
Fittingly perhaps, Forbes magazine voted Shiung's stores-he runs one each in Beijing and Shanghai-as among the top 10 globally.
Finding good tailors-that's the biggest challenge facing his trade now, he said. More so because demand for bespoke suits is high-and rising.
To master the skill of suit-making, a tailor needs to be at it for at least 10 years. Just learning how to make a good suit can take seven to eight years, he said.
"Many tailors can't bear this. It's hard, manual work. Earnings in the beginning tend to be meager. So, they quit learning," Shiung said.
To overcome the problem of short-term-minded apprentices, he spreads his net among the not-so-well-off families of rural China, people with little or no educational background and support systems. For, only such folks "concentrate on learning the craftsmanship".
While hiring assistant tailors to work in his stores, Shiung prefers young children "who are a bit clumsy" and "have nowhere to go".
After the initial training lasting for several years, the master checks their workmanship in terms of precise cuts of the cloth, accurate sewing, lining and stitching of seams, pockets and buttons.
Such attention to detail shows in their output: "top-class tailored suits". Not surprisingly, decades-long pursuit of sartorial excellence has made Shiung the go-to tailor of the well-heeled and the elegance-minded, especially men in the 25-35 age-group, who have returned to China after living abroad.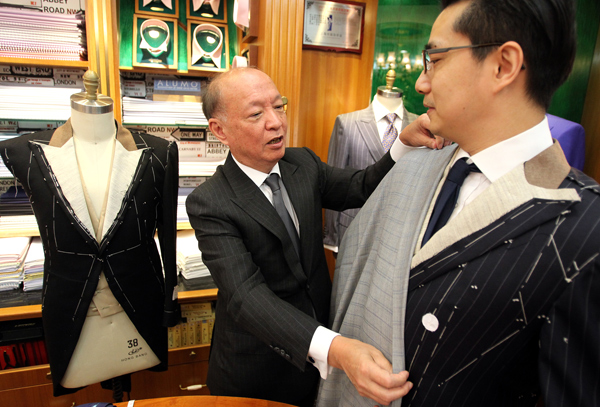 Shiung takes measurements of a customer at his store in Beijing. [Photo by Zhang Wei/China Daily]
But it wasn't like this always. There was a time when most of Shiung's customers were foreigners working in China, mainly diplomat types of embassies and consulates, and executives of multinational corporations.
The average price of a suit is about 8,000 yuan ($1,200) to 10,000 yuan, and it can go all the way up, depending on the fabric.
He said, "A good suit requires about 45 hours of work."
Each of his stores usually makes around 100 suits a month. Each suit takes about two weeks to complete. As is the vocation's norm, Shiung insists on his customers trying out the trial version, to ensure the fit is just right.
Currency exchange rate fluctuations have affected his business.
"The fortunes of the tailoring business are closely connected with the economy. As the yuan has been depreciating against the US dollar, it requires a higher amount of yuan to get a suit made (as imported fabrics are paid for in dollars). These days, many foreigners think twice before getting a suit made," Shiung said.
That attitude reminds him of the scene 25 years ago, when Shiung came to the Chinese mainland to start his business, since the meltdown of the Taiwan currency forced the closure of his stores in Taiwan.
In 2015, his stores nevertheless saw a 50 percent rise in sales revenue because of growing orders.
This year, sales are expected to stay at a level comparable to last year's.
He is the mascot of his business, which, by the way, is not advertised-it relies on word of mouth. He doesn't have any e-commerce plans either.
He believes that only traditional, manual sewing, can ensure the suits fit the wearers perfectly.
All along, his focus has been on creating exquisite men's suits. He wears them, too. At his Beijing store at the Kerry Center Mall in the Guomao area, Shiung appears natty in a sleek pinstriped suit and a dark gray tie, his elegance amplified by his eloquence in English, a language he has evidently mastered as if it were tailoring.
"Shakespeare said, 'Tailor makes the man'. I think people should rather overdress than being outdated. I started learning to make suits when I was 14, and I have been working in this business ever since. I don't have plans to launch any other stores, and if I pass on, my stores are unlikely to survive."