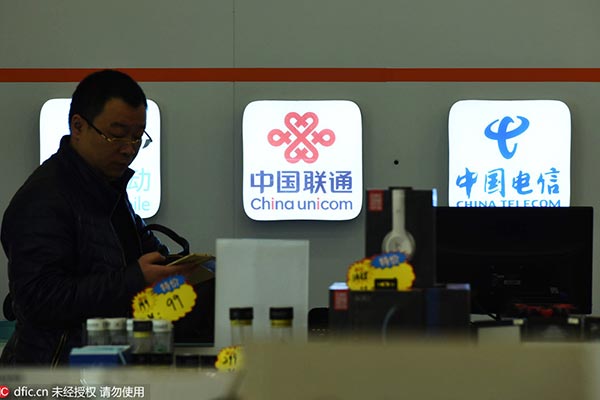 A Chinese customer tries out smartphones in front of logos of China Unicom (center) and China Telecom at a mobile phone store in Hangzhou, East China's Zhejiang province, January 13, 2016.[Photo/IC]
Shares of China United Network Communications Limited rose 5.06 percent on Monday after its State-owned parent company confirmed that it is considering pushing forward "mixed-ownership reform".
Analysts said the announcement indicates that China United Network Communications Group Co, the country's second largest telecom carrier by subscribers, is likely to attract private investors rather than merging with its smaller rival, China Telecommunications Corp.
The Shanghai-listed unit said in a filing on Sunday night that "its parent firm, China Unicom, is working on a mixed ownership reform plan", but the country's top economic planner has not decided yet whether it will be in the first batch of pilot reform programs.
The move came amid rumors of a possible merger between China Unicom and China Telecom, after the two firms were left far behind the market leader China Mobile Communications Corp in both the number of 4G users and base stations.
Xiang Ligang, CEO of the telecom industry website cctime.com, said that the announcement completely crushed the hope of a merger between the two firms, which are both State-owned.
"Instead, it is highly likely that China Unicom will attract an investor from internet giants such as Tencent Holdings Ltd and Alibaba Group Holdings Ltd, whose business can interact with telecom carriers's core services," Xiang said.
According to him, it will be a better option for China Unicom to spin off part of its business and allow internet firms to pour money into the new venture, because the whole company is too big.
Fu Liang, an independent industry expert, said China Unicom is more likely to be chosen as the pilot firm for mixed-ownership reform than its two rivals, because it has a tradition of partnering with private firms.
"The reform plan, if it goes through, will boost China Unicom's innovation vitality, but it will be a very, very time-consuming process," Fu added.