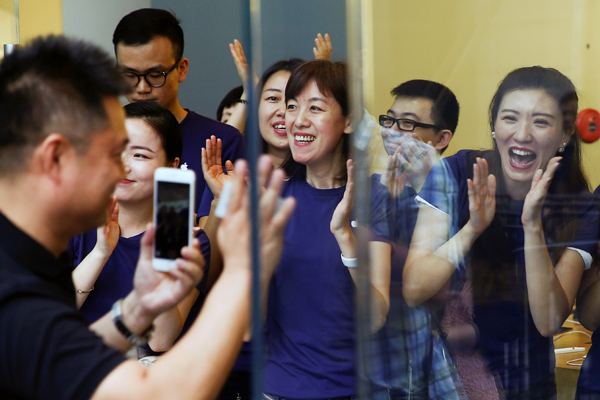 Staff members applaud a customer as he arrives to purchase Apple's new iPhone 7 at an Apple store in Beijing. [Photo/Reuters]
Apple Inc has filed two patent applications in China, in a move to prepare for new smartphone features that can resonate with local consumers, as the US giant struggles with tumbling sales and mounting competition in the world's largest smartphone arena.
The California-headquartered firm filed two applications to patent its dual-SIM card technologies in China, which enable one phone to support two carriers at the same time, according to the official website of China's State Intellectual Property Office.
The two applications, filed in February and March respectively, are still awaiting approval, and they are Apple's latest efforts to lure consumers away from competitors such as Samsung Electronics Co Ltd and Huawei Technologies Co Ltd which have already unveiled similar features on their top-end devices.
Nicole Peng, research director at Shanghai-based consultancy Canalys, said the dual-SIM card features are popular among businessmen in China and other Southeastern Asian countries.
"The move can help Apple battle mounting competition, though it will take time to apply the new functions to smartphones," Peng said.
The news came shortly after Apple set up its first China research and development center in Beijing, with registered capital of 100 million yuan ($14.99 million). The center will have roughly 500 employees and the total investment will be up to 300 million yuan, the local government said.
Its latest devices, the iPhone 7 series, also achieved an initial success among Chinese consumers, with pre-orders of the 7 Plus, and the iPhone 7 in jet-black color, reportedly sold out before they hit the streets on Sept 16.
Jin Di, research manager at IDC China, said unlike Western countries which chiefly rely on telecom carriers to sell contract phones, China has more diverse retailing channels, including e-commerce sites and professional consumer electronic stores, which prompt more consumers to favor dual-SIM card services.
"Smartphones which support dual-SIM cards account for 91 percent of all handsets shipped to China in the second quarter. The move can help Apple lure buyers away from rivals, especially given opportunities brought by Samsung's ongoing phone recall crisis," she added.
China, which had been one of Apple's largest markets in the past several years, recently became a source of disappointment. In the second quarter, the firm saw a 33 percent drop in sales in China, its highest decline in all regions.
In contrast, local firms Huawei and Oppo were growing rapidly, seeing a surge in shipments of 15 percent and 124 percent respectively during the same time frame, data from International Data Corp show.