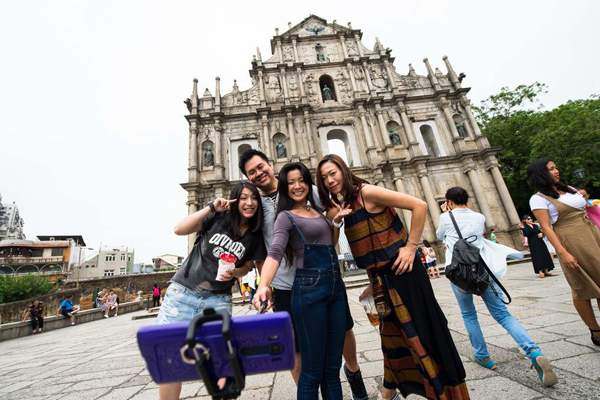 Tourists pose for photos at the Ruins of St. Paul's in Macao, South China, Oct 9, 2016. [Photo/Xinhua] 
Macao in southern China-renowned as Asia's Las Vegas-has tabled plans to become a hub to make traditional Chinese medicine more standardized and scientific and to further develop it to enable its products to be sold around the world.
Those ambitions were formally unveiled recently in the special administrative region's (SAR) first all-encompassing five-year plan. After a year of preparation, the proposals identified Chinese medicine as one of the key emerging sectors in the city-followed by the events and cultural and creative industries-that are targeting creating new employment opportunities to further diversify its economy.
The aim is not only to wean Macao off its heavy reliance on gambling, but also to take advantage of the city's long tradition in Chinese medical treatment and the growing trend in health tourism.
Liu Liang, dean of Faculty of Chinese Medicine and president of the Macao University of Science and Technology, said the city's state-of-the-art facilities coupled with the Guangdong-Macao Traditional Chinese Medicine Scientific Industrial Park, gave it a strong competitive edge in developing the science of Chinese medicine.
Built on 500,000 square meters of land in Hengqin-the peninsula in Zhuhai that is the closest part of the Chinese mainland to Macao-the park is targeting winning international recognition for traditional Chinese medicine so its products can be sold internationally.
Liu added that innovation and the development of Chinese medical science was a major strategy for China, as well as for the SAR. That was despite the fact that many scholars and western medical experts still believed its remedies contradicted some key western medical theories.
"It is key that we go out and earn world recognition of traditional Chinese medicine, although many still regard it as alternative medicine," said the professor, who is also a veteran Chinese medical doctor.
He cited Chinese pharmacologist Tu Youyou, who received a Nobel Prize for Medicine last year, as an example.
"It has been proven to cure many diseases," Liu said. He added that there would no doubt continue to be a sceptical mainstream scientific reaction to the remedies and it would take time for it to be fully accepted in Western countries.
Liu said he considered Chinese medicine to be an emerging sector that Macao should boost in the future, as medical innovation is a value-added sector that could generate high revenues.
"We want to turn the culture and philosophy of Chinese medicine into products and equipment that can be exported to the rest of the world," he said.
The professor helped to establish ISO standards (ISO/TC249) for Chinese medicine in MUST, which is also home to the standard's secretariat and research center.
While the European Union and Macao had already agreed to increase their cooperation in research and innovation at the 20th European Union-Macao Joint Committee meeting held in the city in 2015, Liu said many western scientists and medical doctors were also coming to Chinese cities to acquire knowledge about Chinese medicine and to gain clinical experience.
He said Macao would be an ideal destination for Portuguese-speaking medical personnel.
Local legislator Antonio Ng Kwok-cheong said he also believed that Chinese medicine is a promising industry the Macao should develop.
"It is a potential market that can tap into the increasing medical expenditure now taking place all around the world," Ng said.
The lawmaker also said he saw increasing synergies between tourism and Chinese medicine. "Gaming is the brand of our city, and it is time to rethink how to merge it with this traditional medical knowledge, which has been popular here for centuries."