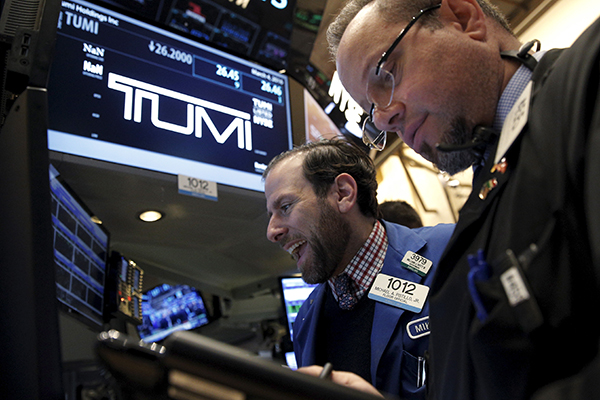 Specialist trader gives the share price for Tumi Holdings Inc at the post where the stock is traded on the floor of the New York Stock Exchange. [Photo/Agencies]
Samsonite International SA said it expects its luxury travel products brand, Tumi Holdings Inc, to double sales to $1 billion as the world's biggest luggage maker pushes the newly-acquired company into the global market with new, lightweight products.
Samsonite forecasts Tumi doubling its revenue, which stood at $548 million in 2015, in as little as three years, with the luxury brand launching new products using Samsonite technology by the end of next year, Samsonite Chief Executive Officer Ramesh Tainwala said on Tuesday in an interview. Samsonite plans to distribute Tumi's products in China and expects strong growth there, he said.
"Tumi's travel luggage segment is not that strong, especially in Asia and Europe, because they lack technology to make lightweight luggage. Samsonite has the technology," said Tainwala.
"The result of the benefit that Samsonite provides to Tumi in terms of technology will be more visible in 2018."
Samsonite's $1.8 billion acquisition of Tumi, which was completed earlier this month, solidifies its position as the top luggage maker and launches it into the premium baggage and travel accessories segment. The 106-year-old company has been aggressive with acquisitions since it was listed in 2011, expanding with the purchases of luxury bag makers Hartmann and Lipault as well as Speck Products, a maker of cases for electronic devices.
Tainwala said he saw the possibility of smaller acquisitions that were distribution-related as his company worked to integrate Tumi over the next few years. "We won't stop looking for acquisitions," he said. "Tumi will keep us busy for the next few years."
Samsonite reported on Tuesday its first-half net income dropped 12.7 percent to $82.4 million from a year earlier, amid the uncertainty of slower growth prospects, terror incidents, and the impact of weaker currencies against the dollar.
Samsonite shares rose as much as 6.5 percent in Hong Kong trading on Tuesday. Samsonite's shares have dropped 4.2 percent through to Monday after it announced the Tumi acquisition on Mar 4.
"The market is waiting to see if the deal can bring real synergy and become a new growth engine for Samsonite amid the business slowdown," said China International Capital Corp Ltd analyst Chris Kwai on Tuesday.
Kwai is cautious on whether Tumi will be able to double sales in the next few years, though growth below that forecast would be seen as positive. "It would mean that the acquisition was the right decision for Samsonite to improve its performance," he said.
The second-half looked much more "hopeful" and the company has seen some early signs of a recovery, the CEO said. Sales are forecast to post mid to high-single digit growth in North America and high single-digit growth in China in the second half, Tainwala said.
Samsonite gets about 40 percent of its revenue from Asia and a third from North America, with China making up about 10 percent of revenue.
Tumi will launch new lightweight products customized for Chinese consumers at the end of next year.
Bloomberg