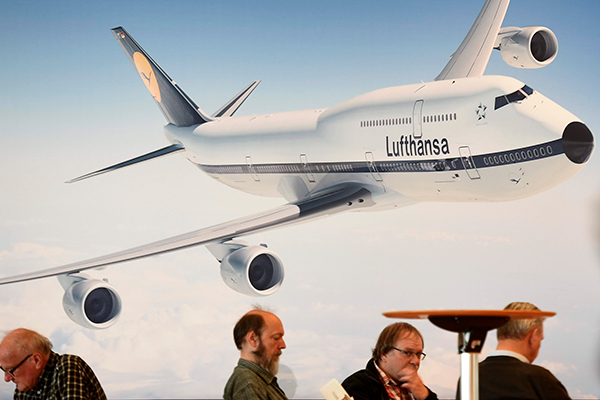 Lufthansa shareholders wait for the start of an annual share-holders meeting in Hamburg, Germany. [Photo/Agencies]
Deutsche Lufthansa AG and Air China Ltd plan to finalize a joint venture this month, sealing a deal to share revenue and coordinate routes after more than two years of negotiations, people familiar with the matter said.
Lufthansa Chief Executive Officer Carsten Spohr plans to travel to Beijing to attend a signing ceremony scheduled for Sept 20, said the people, who asked not to be identified prior to an announcement.
The joint venture is the closest two carriers can get under legal restrictions limiting foreign control of airlines.
Talks to set up the first venture between a European and a Chinese airline have been complex as the two sides wrangled over financial and organizational structure.
After starting discussions in 2014 on expanding commercial ties, the carriers failed to seal an accord in 2015 as planned.
Lufthansa declined to comment on the timing of an agreement. Air China also declined to comment.
Securing links to China gives Lufthansa an edge over European rivals.
The deal also completes a network of revenue-sharing agreements with major markets around the globe as the German carrier seeks to fend off threats from the likes of Emirates and Qatar Airways.
Lufthansa last year struck a similar deal with Singapore Airlines Ltd, adding to its network of partners that include United Airlines, Air Canada and Japan's ANA Holdings Inc.
The agreement will mean close to half of Lufthansa's capacity on long-haul routes will be covered by commercial joint ventures, more than any other European network carrier, according to an estimate by CAPA Centre for Aviation in London.
It also deepens ties between Lufthansa and Air China. In 1989, the two carriers jointly established maintenance company Ameco Beijing, which employs more than 11,000 people.
Bloomberg