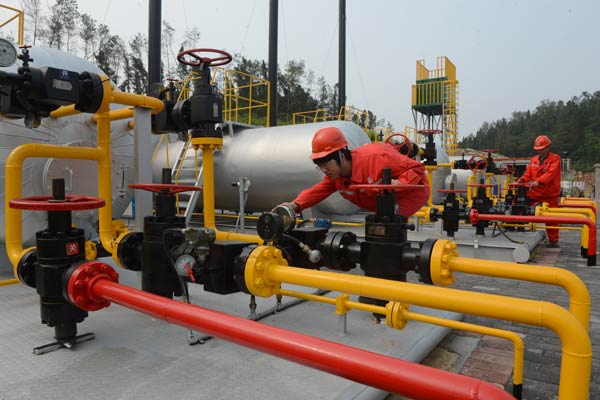 Technicians check shale gas transport facilities in Chongqing. China is believed to possess the world's biggest estimated technically recoverable shale gas resources.[Provided to China Daily]
WASHINGTON - China is expected to produce over 20 billion cubic feet of shale gas per day (Bcf/d) by 2040, becoming the world's second largest producer after the United States, said the US Energy Information Administration (EIA) on Monday.
The production will account for more than 40 percent of the country's total natural gas production by 2040, the EIA predicted.
In the past five years, China drilled more than 600 shale gas wells and produced 0.5 Bcf/d of shale gas as of 2015, said the EIA in its International Energy Outlook 2016 and Annual Energy Outlook 2016.
The US shale gas production will stay in the first place as it is projected to more than double from 37 Bcf/d in 2015 to 79 Bcf/d by 2040, accounting for 70 percent of total US natural gas production, said the EIA.
Canada is now the world's second largest shale gas producer, producing 4.1 Bcf/d in 2015. Its shale gas production is projected to continue increasing and will reach less than 10 Bcf/d, accounting for almost 30 percent of its total natural gas production by 2040.
Shale gas will also become the major drive of the world's natural gas growth in the next 24 years, said the EIA.
The world's shale gas production by 2040 is expected to quadruple the level in 2015 and reach 168 Bcf/d, accounting for 30 percent of world natural gas production. The world's natural gas production is expected to increase by about 62 percent during the same period of time.
At present, only the United States, Canada, China, and Argentina have commercial shale gas production. The EIA believes that with technological improvements, more countries, primarily Mexico and Algeria, will begin to produce shale gas.
These six countries are projected to account for 70 percent of global shale gas production by 2040, said the EIA.