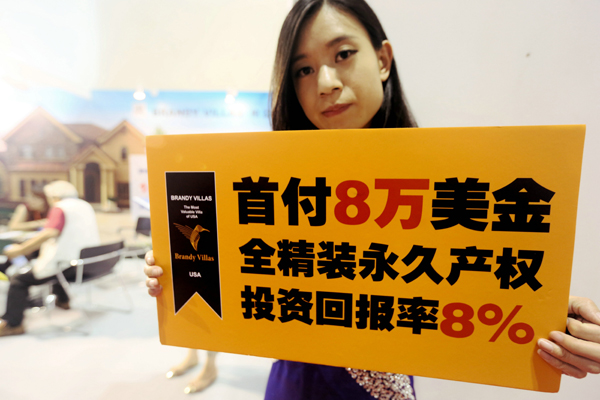 A girl holds a billboard to promote overseas homes at a realty expo in Beijing. A Qing / For China Daily
As property in the United States recovers steadily from recession, New York City's commercial real estate is likely to continue to interest Chinese buyers, according to observers.
But the same cannot be said of Vancouver city in the Canadian province of British Columbia, another favorite destination of Chinese realty buyers, where a new tax has been slapped on foreign purchases.
"The Chinese economic growth is slowing. But it's still healthy. Real estate prices have recovered in most US markets and this gives confidence to foreign buyers, including the Chinese, to invest in US real estate," said Danielle Hale, manager of housing research for the National Association of Realtors in Washington.
US real estate is attractive in part because there are large Chinese communities in the US that have expanded beyond San Francisco and New York, the usual landing areas for those from the mainland. Seattle, Texas and Florida are gaining preference among Chinese buyers, said Hale. "It's reassuring to buy a home in an area with an established Chinese community."
Many Chinese buyers are also acquiring properties for their school-, college- or university-bound children, Hale said.
On the commercial real estate front, Chinese interest seems to be heating up again after a brief lull, Joseph Sitt, CEO of the New York-based Thor Equities, told Bloomberg. "We saw a slowdown about six months ago when China went through that little bump in the road, but now I am starting to see it going in reverse."
Last week, Xinyuan Real Estate Co Ltd, one of the first Chinese developers to enter the US market, announced the acquisition of the RKO Keith's Theater, a landmark movie palace located in the Flushing neighborhood in Queens, New York. Xinyuan plans to tear down most of the building and construct a 269-unit condominium tower.
Property records also indicate that the US arm of Shanghai Municipal Investment, the largest State-owned enterprise in Shanghai, is reportedly in line to be involved in a planned $1 billion condominium project called the Central Park Tower in New York City.
But the story is different in Canada. On Aug 2, the provincial government of British Columbia instituted a 15 percent tax on foreign property buyers in metropolitan Vancouver as a surge in real estate purchases by rich foreigners, particularly the Chinese, has set prices soaring in the area.
Vancouver has become a haven for wealthy Chinese buyers as the average sales price of a home more than doubled between 2005 and 2015, to C$1.6 million ($1.22 million), according to the Real Estate Board of Greater Vancouver.
Thomas Davidoff of the Sauder School of Business at the University of British Columbia said the effect of the tax is hard to gauge right now. "The answer depends in large part on the impact on affluent buyers from China who make up the majority of foreign buyers," he wrote in an email.
Davidoff said that if foreign demand disappears entirely, Vancouver prices could fall somewhere between 25 and 50 percent. "But I don't think all foreign buyers will disappear. Some will pay the tax, some will find ways around the tax, like friends, family, and businesses to which they are connected and are not subject to the tax. If I had to guess, relative to a world without this tax, a 10 percent drop in prices, but there is a lot of uncertainty around that number.
"Exchange rates, macro volatility in China, and capital control enforcement have also impacted Chinese demand for Vancouver real estate, and we aren't holding those conditions constant."