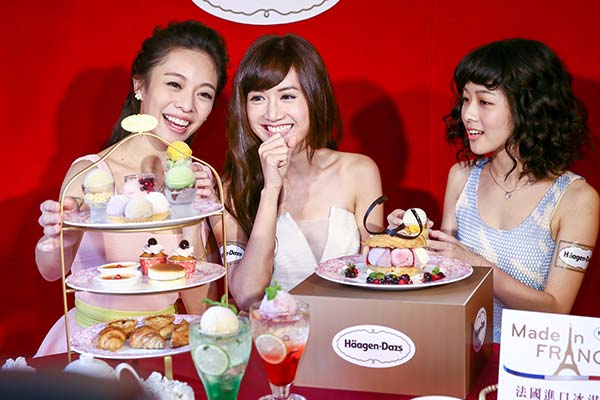 Models display Haagen-Dazs products at a news conference in Taipei.[Provided to China Daily]
Rising rents and lower profits have forced General Mills Inc's ice-cream brand Haagen-Dazs to close stores in second- and third-tier cities in China amid a slowdown in the ice-cream market mainly due to a lack of innovation and its inability to keep pace with demand from increasingly sophisticated Chinese consumers.
"We have adjusted our stores in second and third-tier cities due to slower economic growth in those regions," Haagen-Dazs said in an email reply to China Daily on Monday.
But the US ice-cream chain said a "5 to 10 percent adjustment in store numbers" is normal". The brand has 380 stores in 84 cities in the country, despite the challenges at markets in second and third tier cities in the country, according to the email statement.
The company's international sales declined 10 percent in fiscal year ended May 29, and its international segment operating profit slumped 15 percent, mainly due to unfavorable foreign currency exchange rates and slowing economic growth in China and Brazil, according to its annual report.
But the company said it still maintained strong growth in large cities. Revenues in Shanghai and Beijing grew 16 percent and 13 percent respectively in June, and it opened more than 60 new stores last year.
According to data from Euromonitor International, Haagen-Dazs maintained its leading position with a 17.8 percent market share last year. However, US firm Dairy Queen Corp is rapidly closing the gap, notching up a market share of 15.6 percent in the same period.
Lulu Wang, a senior associate at Euromonitor International, said Haagen-Dazs' slowdown was mainly due to rising rental and labor costs, which have made it become more conservative regarding expansion. Haagen-Dazs also faces intense competition from many other food service players.
"The rapid expansion of Haagen-Dazs in China in the past few years benefited from its premium positioning and sophisticated dining environment, but it is now losing its ground to cafes and specialist coffee shops," said Wang.
Many cafes and coffee shops outperformed Haagen-Dazs thanks to their sophisticated dining environment and rich product availability, she said, adding that a lack of innovative products also caused the decelerating expansion.
The increasing popularity of nitro ice cream and cotton-candy topped ice cream showed that Chinese consumers, especially the younger generations, have a great preference for innovative products.
Industry analyst Jason Yu, from Kantar Worldpanel China, said that the nation's ice cream market is generally feeling the pinch.