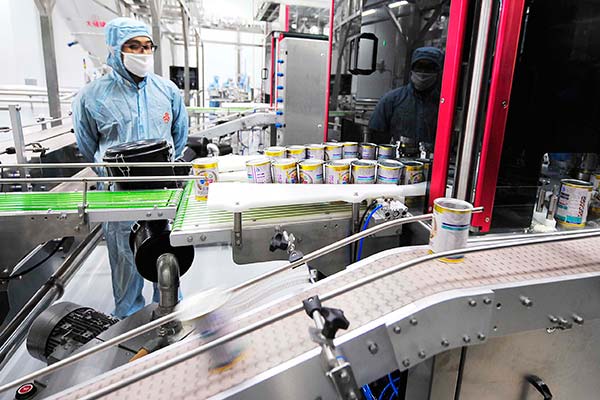 A production line of Beijing Sanyuan Foods Co Ltd in Xinle, Hebei province. YUAN YI / FOR CHINA DAILY
Domestic producers have tried one after the other to purchase overseas capabilities
Beijing Sanyuan Foods Co Ltd, one of China's leading dairy producers, plans to purchase a majority ownership in Crowley Properties Ltd, a Vancouver-based company making dairy products such as yogurt, cheese, ice cream and butter for about C$19 million ($14.58 million), according to an announcement by Sanyuan.
The acquisition was approved by Sanyuan's board of directors in May and is now under assessment by related government departments.
Beijing-based Sanyuan will make the deal by establishing a joint venture with Canada's Proto Capital Investment & Trade Group Ltd. With the joint venture being the buyer, Sanyuan will hold 51 percent stake in it, with Proto holding the remaining shares.
"Crowley is a company with a history of more than a century and also with a good reputation among consumers such as Sanyuan," said Chang Yi, chairman of Sanyuan.
He said Sanyuan had been seeking out merger and acquisition opportunities abroad for years and is grasping the opportunity created by the fact that the family that owns Crowley has no members who plan to continue the business. "We aim to explore overseas markets and produce high-end dairy products after the acquisition."
According to Chang, Crowley's assets also attracted other bidders, but "the odds are in our favor because Sanyuan has a great advantage".
Chinese dairy companies' acquisitions abroad started in 2010 when Bright Dairy and Food Co Ltd, another major Chinese dairy producer, bought a 51 percent stake of New Zealand's Synlait Milk. Since then, domestic dairy companies have tried one after another to purchase overseas capabilities.
"They go out to learn advanced technology and management experience so that their products can be more competitive in the domestic market," Song Liang, a senior researcher in the dairy industry, was quoted by the Securities Daily.
China's domestic dairy sector was badly hurt by the 2008 scandal in which several major companies were found to be adding melamine to their products.
Since then, Chinese consumers have kept increasing their use of imported dairy products because they are worried about quality issues in domestic milk production.