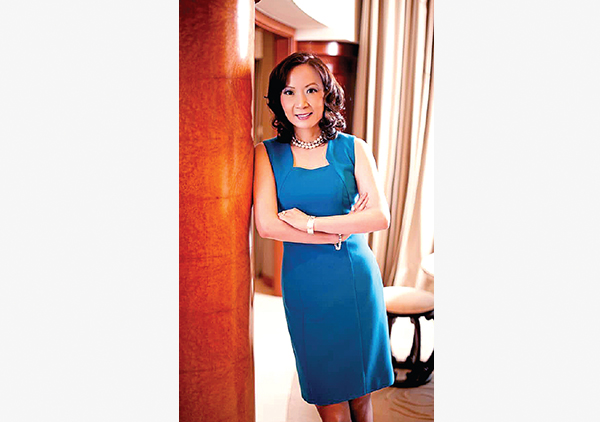 Jing Ulrich, vice-chairwoman of Asia Pacific at JPMorgan Chase & Co. [Photo provided to China Daily]
JPMorgan Chase's Jing Ulrich seeks to capture long-term value
Jing Ulrich, vice-chairwoman of Asia Pacific at JPMorgan Chase & Co, is busy preparing for the Global China Summit 2016, a China-investment summit created by her that brings together more than 2,000 delegates from 50 countries.
"I think my greatest achievement to date is that I have developed a unique position for myself to link the East with the West, and to promote greater understanding among people from different cultural and linguistic backgrounds," said Ulrich.
In her last 12 years at JPMorgan, she had organized the summit each year to connect delegates with top government officials and business leaders in China.
Previous keynote speakers included former Chinese premier Zhu Rongji.
Zhu Guangyao, vice minister of the Ministry of Finance, will be a keynote speaker this year.
"I think to successfully break into the Chinese market as a foreign company leader, the ability to understand the Chinese mindset and to foster strong business ties with the Chinese government and corporations is the key," said Ulrich.
She said JPMorgan has deep commitment to China, and this means its businesses here will continue to strive for progress.
According to JPMorgan's annual report in 2015, the company believes China will be a developed nation in 20-25 years, probably housing 25 percent or more of the top 3,000 companies globally.
Long-term value
JPMorgan manages its growth in China to try to capture the long-term value and in a way that would enable it to handle bad, unexpected outcomes.
"Last year, we led many deals here that were not only important for China but recognized as ground-breaking regionally and globally," said Ulrich. "We expect this trend to continue."
JPMorgan announced in December its 'Strategic Cooperation Agreement' with Postal Savings Bank of China, the sixth largest commercial bank in China in terms of assets.
Postal Savings Bank is planning to raise about HK$78 billion ($10.1 billion) from its initial public offering in Hong Kong this year, but the timetable has not yet been confirmed.
Ulrich spends more than two thirds of a year traveling and giving investment advice to the largest global asset-management companies, sovereign wealth funds and multinational corporations. She also serves as an expert on China for these clients.
As for China's transition to the New Normal, Ulrich said the country and the company need to be more adaptive and agile during this new period of slower growth.
"Slower growth doesn't necessarily mean that there will be fewer opportunities, and it means that we need to identify the new sources of growth and focus on the opportunities generated by the new economy of China," she said.
Fresh opportunities appear possible in the high-tech and service-oriented industries. A new area of growth is green technology, as environmental protection is currently on the government's list of high priorities, she said.
Belt and Road Initiative
The government's Belt and Road Initiative and Chinese corporations' successful overseas expansions have made it imperative for foreign corporations to formulate new business strategies to collaborate more effectively. For, Chinese firms have become more globalized and sophisticated, she said.
As for the yuan's fluctuations, Ulrich said the Chinese currency's internationalization spells a new regime of pegs to a basket of currencies, which has resulted in greater flexibility and closer alignment with the market value for the exchange rates.
"With improved communication from the People's Bank of China, we have seen more stability of the RMB in recent months," said Ulrich. "Moreover, foreign-exchange reserves have risen and capital outflows have continued to moderate."
Ulrich said in the long run, the continued internationalization of the yuan will pave the way for further financial reform, especially in terms of capital account liberalization, and allow the PBoC to conduct monetary policy more independently.
Despite her hectic work and travel schedules, Ulrich always finds time to run or do yoga, in order to keep fit and healthy. Over the years, running and yoga have become her favorite pastimes.
Cui Tiange, a Beijing-based communications manager at JPMorgan, said Ulrich is so energetic that she can multi-task while doing exercises.
Ulrich's husband is an American and they have known each other since their Harvard University days. They try to spend as much time with each other as possible. They sometimes travel together, spend weekends, do some hiking and meet with friends.
"The job is very demanding, but thankfully, I have a very supportive and understanding husband who has been with me for the past 25 years, and he is also my best friend," said Ulrich.
She sportingly agreed to a short Q&A. Excerpts:
What's your China dream?
My China dream is not too dissimilar from other Chinese citizens of my generation, where many of us grew up during hard times. We all like to see China succeed.
We hope that China will develop into a powerful First World country that is on par with the United States in terms of technology, per-capita income, financial market development, academic and research capability, legal and regulatory system, et cetera.
I am a firm believer that when China becomes a developed country, it will play a critical role in strengthening East-West connections and driving the future growth of the global economy.
What book are you reading now?
I am rereading Dr Henry Kissinger's book On China. I enjoy it. It's a thick book and I am also picking up new things.
We hear that you are interested in fashion. What do you think of fashion and how do you combine your fashion ideas with life?
I am not an expert on fashion, but I think it is very important for a businesswoman to project a correct image. For example, I love bright colors and I think the bright colors really help me bring out my personality.
And also bright colors will make me stand out more in a large crowd. But I also think a businesswoman needs to be approachable as well. Through the image, we need to show that we are confident, competent and approachable.
CLOSE-UP
Name: JING ULRICH
Education: Received Bachelor of Arts degree with honors from Harvard University in 1990 and a Master of Arts degree from Stanford University in 1992
Family: She and her husband reside in Hong Kong
Career:
2013-present: Managing Director and Vice Chairman of Asia Pacific, JPMorgan Chase & Co
2008-13: Managing Director and Chairman of Global Markets, China, JPMorgan
2005-08: Managing Director and Chairman of China Equities and Commodities, JPMorgan
2003-05: Managing Director of Greater China Equities at Deutsche Bank
1996-2003: Managing Director, CLSA
1994-96: Fund manager for Greater China at Emerging Markets Management LLC
1992-94: Equity analyst at Bankers Finance Investment
Source: JPMorgan Chase & Co