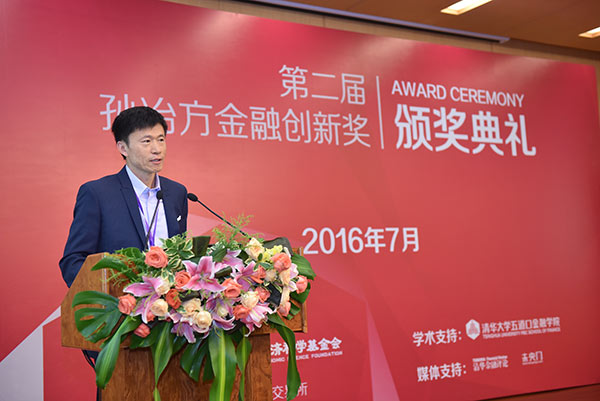 Liu Zheng, co-author of the paper, Capital Controls and Optimal Chinese Monetary Policy, made a speech at the ceremony held for granting the Sun Yefang Financial Innovation Awards in Beijing on July 3, 2016. [Photo provided to chinadaily.com.cn]
Liu Zheng, co-author of this paper, said that the difficulties lie in how to study optimal monetary policy in a dynamics stochastic general equilibrium (DSGE) model that incorporates these Chinese characteristics, as this model is mostly used in mature economies.
In his speech at the awards ceremony, Liu said that another co-author, Mark M. Spiegel, asked him to mention their gratitude, as it is not easy for Spiegel, who works with the Federal Reserve Bank of San Francisco, to be recognized by China's economics circle.
Liao Guanmin, co-author of The Brain Gain of Corporate Boards: Evidence from China, told chinadaily.com.cn before the award ceremony that he was surprised that their paper would get such an award. He said the study dates back to 2010, when there were academic debates on whether it is a brain drain or brain gain for emerging markets when their talents go abroad to study. Another co-author, Yu Xiaoyun was very interested in this topic as she herself had study and work experiences at home and abroad.
Liao said their study was centered on the corporate boards of listed companies and found that when members with foreign experience joined a board, they bring significant improvement to the company they serve. Through this channel, previous brain drain turns out to be brain gain.